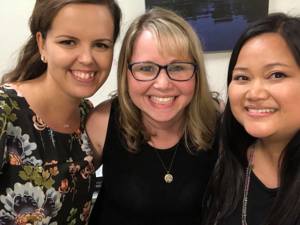 She's a team player with a sensitive side who would rather reason with zombies than fight them. She has a firm understanding of her strengths and will sniff out all the bargains if on a shopping trip. She is Britney Orth, assistant director of student conduct and outreach in the Dean of Students Office. Let's get to know her. 
Tell me about any hobbies, passions or interesting tidbits about yourself. 
I like collecting Funko Pop figures, especially the Disney ones. It's kind of a family thing, we all have our Pop characters. My daughter loves the Disney princesses and my boys like Toy Story and the Ninja Turtles. 
I'm definitely a planner. My family and I are planning a trip to Disney this summer, so I've been listening to four podcasts a week about Disney vacations. 
I also love to shop and I'm really good at finding bargains and discounts. I enjoy craft stores and fair shopping. I go every year to the Vanderburgh County Homemakers Extension Club's Craft Fair at the 4-H Center in September. I get items for my house along with birthday and Christmas presents.   
My new favorite craft store is The Rusty Nail in Salem, Illinois. I went on a road trip with a friend and we had no idea this place even existed. The fact that we haphazardly found it, and it was everything that we were looking for, makes it even more special. I like to call it "my happy place." 
I also prefer shopping for pajamas more than regular clothes. My family does the annual Christmas portrait with coordinated pajamas.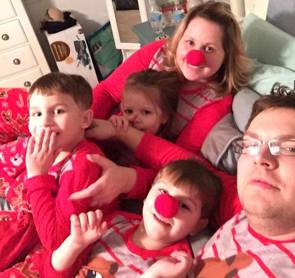 If you could shop for free at one store, which one would you choose? 
It was hard to choose so I asked my co-workers and they said "Kohl's." They hear me talk about my Kohl's cash all the time. 
Who is the funniest person you know at USI? 
It was difficult, but I narrowed it down to two: Renee Rowland, director of advising, College of Liberal Arts and Joel Matherly, assistant director, Veteran, Military and Family Resource Center. I've known Renee since I was a student and she says things that no one else can get away with. She tells you exactly how it is and she's hilarious. Joel has more of a drive-by kind of humor because you could be walking out a door as he is walking in and he'll say something that cracks me up. It's amazing the stuff he comes up with. 
What are you strengths according to Strengths Finder? 
Maximizer: I like to find things that are already working really well and make them bigger and better. I call it "my efficiency button." 
Individualization: I see each person as an individual with their own special strengths and talents and try to help them build on that. Supposedly, this trait also means I'm good at gift giving, except for my husband. I'm horrible at picking gifts for him. 
Relator: I like to build relationships with people, especially smaller groups of people. When I work on a project, I enjoy working with a group of friends. 
Self-assurance: When I first found out about this one, I didn't think it was correct because it takes me forever to make a decision. However, when I read that description further, I found that is actually part of the self-assurance process. You have to factor in all these different things. It's going to take a while to figure out your decision, but the self-assurance element is that once you've made that decision, you move forward and don't look back. 
Learner: I like to read books and articles about how to build my strengths. I also like to read a lot of articles about sociological issues, politics and education. 
How would you use those strengths to survive a zombie apocalypse? 
I asked Laurie Berry, assistant dean of students, because she has some zombie Intel, and she suggested a strategic approach. So, I would get a group of friends together and work to try to solve the zombie problem. We would try to figure out the strengths and weaknesses of these zombies, and how to either get them on our side and build relationships with them or plan an escape. 
I don't think you can build relationships with zombies. 
So it's probably an escape plan. 
What are your three favorite movies? 
I went more with favorite series or genre. I like the Star Wars movies because I used to watch them with my dad when I was a kid. I also like romantic comedies. One of my all-time favorite movies is Sound of Music. I watched it when I was in grad school when I had to write papers. It was long enough to where I would watch it two times and get my paper to be done. 
What personal trait has gotten you in the most trouble? 
Talking too much. It started as young as kindergarten. I don't know how many times the teacher had to write my name on the board for talking. If I'm really passionate or excited about something, I just talk, talk, talk. But I'm not someone who goes into a room and tries to meet everyone in there. I'm no Amy Price (director of Housing and Residence Life.) 
What's the most recent show you've binge watched? 
I started watching This is Us one day when I wasn't feeling well. I ended up watching the entire first season in a couple of days. There's a lot of sadness but also a lot of heartwarming moments. Either way, it makes you cry. I don't think I've cried that much in two days in my entire life. 
What's the title of the current chapter of your life? 
It would have to be something about change. There has been a lot of change in our office so I was inspired by a quote. It might be too long for a chapter title, but, "The only way to make sense out of change is to plunge into it, move with it and join the dance." Another quote that stood out was "Never believe that a few caring people can't change the world, for indeed, that's all who ever have." 
What's something you can't go a day without doing? 
I can't go without hugging my kids, especially in the world we live in now. There are so many heartbreaking things happening to people, especially children. It makes you want to hold your kids tighter and make sure they know how special they are and how much you love them.