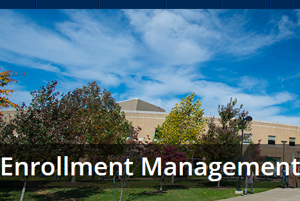 Award winners for the annual Enrollment Management Awards have been announced. Established in 2016, the Enrollment Management Awards provide an opportunity to celebrate and recognize staff who go beyond the call of duty to enrich the workplace and provide excellent service to students and the University.
Full-time employees working in Enrollment Management including Undergraduate Admissions, Student Financial Assistance, the Registrar and University Division, as well as collaborative partners were eligible for nominations.
Here are this year's winners:
Collaboration Award
Recognizes the team leader and the team members who have spearheaded a collaborative effort that has substantially impacted a department, several departments, the campus, staff and faculty and /or student and families.
Award Recipient: Aaron Pryor, Academic Counselor, Student Support Services
Team member: Deanna Odney, Writing Specialist, Academic Skills
Quote from nominator: "Aaron was inspired by a project idea at a regional conference, and knew it was the perfect way to get our students engaged, and to provide them with a strong skill set for the workplace. He wanted to give our students the opportunity to publish a book. He knew the impact that it would have to empower our students to share their voice regarding their tenacity and strength and overcoming barriers as first generation, low income and students with a disability. He leaned on the expertise of Dr. Deanna Odney, writing specialist in Academic Skills to help conduct writing circles with our students and to oversee the editing process. He collaborated with departments on campus to navigated copyrights, authorization forms, finances, royalties and other financial hurdles that come with pursing a publication."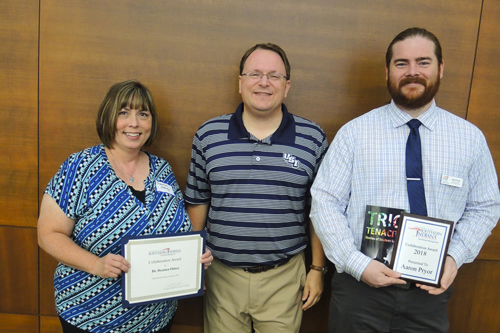 Knowledge for Life Award
Recognizes an individual who had made outstanding contributions beyond his or her position to their professional development.
Award Recipient: Lori Saxby, Reading Specialist, Academic Skills
Here are just a few of Lori's recent developmental accomplishments:
Presentation of "A Comparative Snapshot of College Textbook Reading Perceptions and Expectations among USI Faculty, Freshmen, and Seniors" at the 2018 Teaching and Learning Symposium at USI
Volunteer for the Literacy Center
Presentation of "Reading and Learning Across the Disciplines" the College Achievement Program Summer Conference at USI in July 2017
Assisted in Blackboard training support of new faculty members
Serving as a FACT (Formative Assessment of Teaching) consultant at USI during the 2015-2016, 2016-2017, and 2017-2018 academic years
Presentation of "Learning is an Inside Job" at the 2017 Teaching and Learning Symposium at USI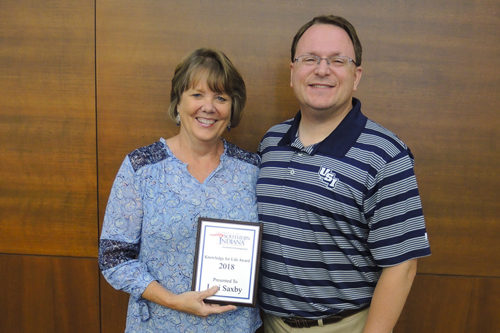 Outstanding Support Staff Award
Recognizes a staff member who exhibits exceptional performance above and beyond his or her normal job duties.
Award Recipient: Stephanie Dodson, Information Systems Associate, Student Financial Assistance
Quote from nominator: "Stephanie is responsible for all Title IV refunds, which is one of the most contentious, complicated federal processes in the Student Financial Assistance office. Each year internal and external auditors question her about the process during our annual audit, and determine that Stephanie is extremely competent and knowledgeable about the process. To date, we have been fully compliant and that is because of her."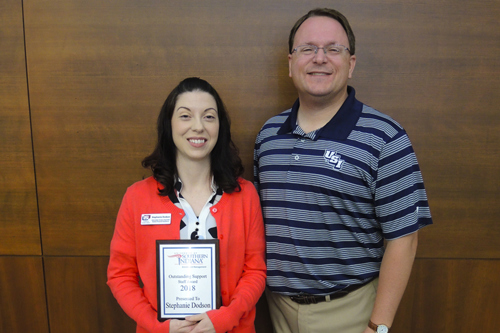 Friend of Enrollment Management Award
Recognizes individuals and/or groups/organizations outside the Division of Enrollment Management who have made outstanding and/or sustained contributions to the mission and vision of Enrollment Management.
Award Recipients: Mat Santoro, Head Men's Soccer Coach, Athletics and Ronda Stone, Manager of Disability Resources
Quote from nominators: "Coach Santoro supports our mission of student success and retention with Academic Skills by requiring new freshmen on the USI Men's Soccer team to log required study hall hours during their first semester on campus. In addition, he encourages student athletes who have excelled academically to apply for work for Academic Skills as tutors and academic peer coaches. He recognizes the importance of holistic student-athletic development.
"Ronda has been a major advocate in recruiting and referring new students to the Student Support Services program, helping to meet grant guidelines for enrollment. At orientation she can be seen exhibiting the utmost patience and care for our students and their families. She works to provide support for student educational needs whether the barriers are physical, academic or health related. "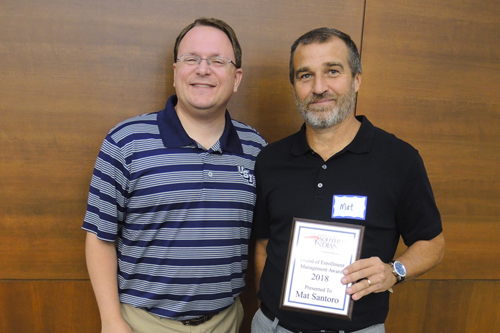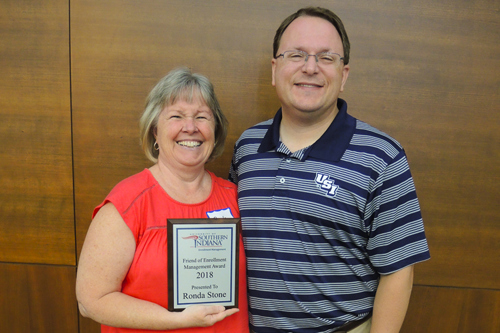 Outstanding Administrator Award
Recognizes an administrator who exhibits exceptional performance above and beyond their normal job duties.
Award Recipient: Cyd Fithian, Assistant Math Specialist, University Division
Quote from nominator: "Cyd embodies the spirt of this award. She is student-centered and puts the best interests of our students at the forefront. In addition to exceling as a math educator, she spends countless hours working with students in her office, many who are not enrolled in her classes. Students seek her assistance because they know she will help them in a positive, proactive way. She possesses an almost innate ability to establish a sincere and genuine rapport with students."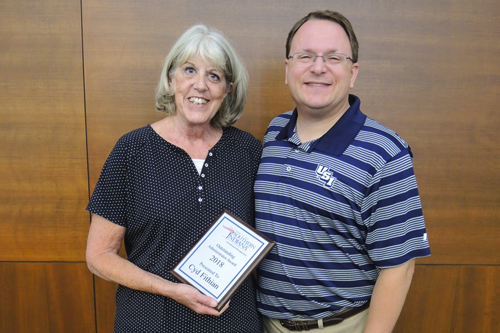 Innovation Award
Recognizes an individual or team who innovative work or suggestions significantly improve operational efficiencies, introduces a new or modified business practice or improves work process workflow or customer service.
Award Recipient: Zane Dunlap, Senior Administrative Assistant, Registrar's Office
Quote from nominator: "Zane developed a new system for processing College Achievement Program (CAP) registrations. Once students are admitted to the university, their information including their High School and course selections are sent to the Registrar's Office so that we can enroll the students. He created a new systems that allowed for faster communication between departments and calculated the refund schedule. This process in the past was extremely tedious and time consuming, and with his approach, it has cut our time in half."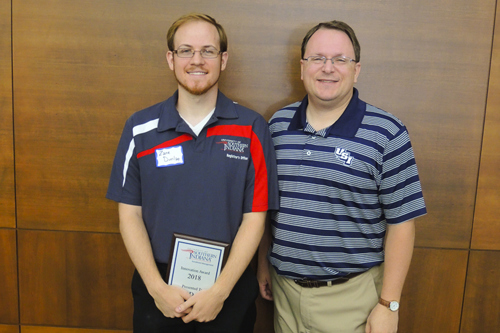 Outstanding New Professional Award
Recognizes a new Enrollment Management employee who has made outstanding contributions toward achieving departmental goals, divisional goals and Enrollment Management core values.
Award Recipient: Caleb Fendrich, Senior Counselor, Student Financial Assistance
Quote from nominator: "In the short time Caleb has been at USI, he has helped to streamline programs and has found new and better ways of accomplishing what needs to be done. He helps our new students by presenting information and answering questions during orientation days and high school nights. He is very conscientious and takes the time with students to make sure they understand what is going on as well as what they still may need to do, guiding them through the maze of financial aid while maintaining his coolness, composure and patience."