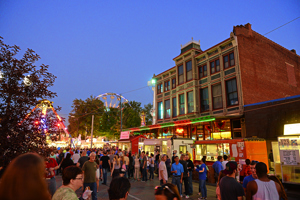 From cake balls to pork chops, USI will be there to fulfill your hunger needs at the 97th annual West Side Nut Club Fall Festival beginning Monday, October 1 and running through Saturday, October 6.
Every year during the first week of October, a week-long gala takes over Franklin Street with free entertainment, carnival attractions, talent competitions, parades and over 140 food booths. This uniquely-Evansville event attracts over 200,000 people and is considered to be one of the largest street festivals in the nation.
Several of USI student and alumni organizations, ranging from Greek Life to the Varsity Club, utilize the Fall Festival as part of their yearlong fundraising efforts, so take an off-campus lunch and come support USI! The Munchie Map will show you all of this year's offerings, but we saved you the trouble and highlighted the booths featuring our own. From west to east: 
Booth 73 - Tau Kappa Epsilon - Stombolis, Grippos and Ski
Booth 70 - Delta Zeta - Cake balls, fried pickles, jalapeno poppers, mozzarella sticks, soft drinks and water
Booth 61 - Lambda Chi Alpha - Philly cheesesteak sandwiches and Pepsi products
Booth 36 - USI Art Club - Corn on the cob
Booth 107 - USI Varsity Club - Pork chop sandwiches and ribeye steak sandwiches
Booth 104 - Alpha Sigma Alpha – Chicago-style hotdogs, chocolate-covered strawberries, fruit haystacks and Oreo cookie balls
The Varsity Club booth, which provides the club with nearly $20,000 to spend on scholarships, features a rotating cast of both alumni and student-athlete volunteers. If you go between 4 and 10 p.m. Wednesday, October 3, the person serving your steak sandwich might be one of the 2018 National Champion softball players or their award-winning coaches.
After having your fill of sweet, salty, and deep-fried treats, you can meet USI men's and women's basketball teams at 6 p.m. Monday, October 1 on the Main Stage. If you can't make it to the Varsity Club booth Wednesday, you can catch the national championship-winning softball team and coaches at the annual parade, which starts at 4 p.m. Saturday, October 6.
Working at a USI booth or planning on going to Franklin Street to support one of our booths? Send us a photo and we'll share it on USI Today's This Week in Photos Feature. Email your photo to USI.Today@usi.edu.