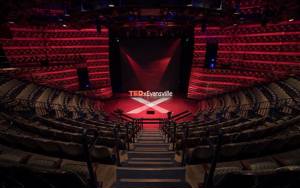 Two of USI's own will be featured as speakers when TEDxEvansville makes its return to campus for the 2018 event at noon Friday, October 26 in the Performance Center.
TEDx events are locally-organized events inspired and affiliated with the TED organization and model. Speakers are given up to 18 minutes to share their ideas on global issues and topics, and their talks are broadcast live online and recorded so that a global audience can engage with the talk.
This year's TEDxEvansville event, which is themed "Connect," is a return to the Performance Center after last year's event featuring multiple USI speakers. This year, two of the eight live speakers will be familiar faces to the USI community:
Dr. Matthew Hanka, associate professor of political science and public administration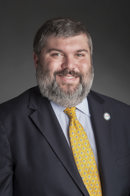 How Housing First Puts Us On A Path to End Homelessness
"My talk willdiscuss the issue of homelessness, particularly the chronic homelessness in our community, and how the "housing first" approach using permanent supportive housing, compared to the traditional "treatment first" approach, has decreased homelessness, improved outcomes for the former homeless in terms of resources, housing ability, health and quality of life. I will also highlight the work of the Commission on Homelessness for Evansville and Vanderburgh County and our homeless service providers in the community in providing permanent supportive housing for the chronically homeless."
TEDx Bio: Dr. Matt Hanka is Associate Professor of Political Science and Public Administration at the University of Southern Indiana. Hanka earned a B.A. in History and Politics from The Catholic University of America in Washington, DC, and an M.A. in Political Science and a Ph.D. in Urban and Public Affairs, both from the University of Louisville. Hanka has taught 17 different courses on both the undergraduate and graduate level. His research interests include housing policy, community development, urban policy and governance, strategic planning, and social capital. Hanka's academic work has been published in such journals as American Review of Public Administration, Community Development, Housing Policy Debate, Housing and Society, Journal of Urban Affairs, Journal of Urbanism, Local Environment, Planning for Higher Education, and Journal for Public and Nonprofit Affairs. He has provided leadership to strategic planning processes for USI, the Rotary Club of Evansville, and the Evansville Museum of Arts, History, and Science. Hanka became Director of the Commission on Homelessness for Evansville and Vanderburgh County in February 2018. He also provides political commentary for WNIN-FM, Eyewitness News/Local 7 (WEHT/WTVW), and WEVV-44 in Evansville. He lives in Evansville with his wife Ann and their two sons, MJ and David.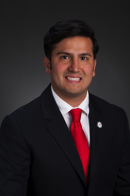 Carlos Caballero-Ramirez '17 M'18
Connecting with the Marshallese
"I will share my experience and research of the Marshallese Community living in the United States and in our community. My goal is to build a bridge of collaboration and communication between the Marshallese Community and the Evansville Community."
TEDx Bio: Carlos Caballero holds a Master of Healthcare Administration (MHA) from the University of Southern Indiana, and is an Account Executive for Medical Services of America. Caballero, is a visionary health care leader, passionate for serving people and building bridges of collaboration and communication. Focused on helping others become the best versions of themselves and making continuous improvements happen. He has served the needs of the poor through international medical missions, developing multidisciplinary strategic population health plans in the Evansville community, and improving Alzheimer's Dementia care in Southwest Indiana. Caballero's most recent achievement was becoming a published co-author for the peer reviewed Journal of Continuing Education in the Health Professions.
Tickets and additional information are available online. If you are unable to attend, watch the TEDx Evansville website and USI Today for an upcoming live link.