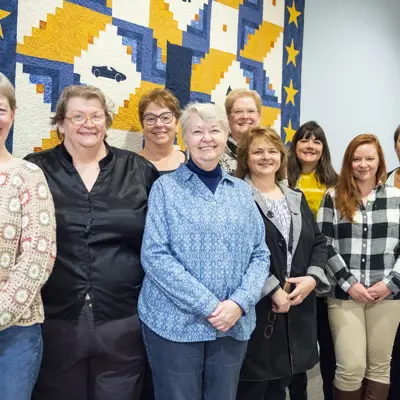 Bicentennial quilt finds permanent home at David L. Rice Library
David L. Rice Library visitors can now enjoy a colorful representation of Indiana's history in the form of a quilt celebrating the state's bicentennial. The king size quilt, created through a partnership between the Evansville Vanderburgh Public Library (EVPL) and the Raintree Quilters Guild of Evansville, was dedicated on Monday, December 3.
"Any artist, that is their joy, to be able to show their art to the community and allow others to see it," said the quilt's designer, Raintree Quilters Guild member Olivia TenBarge. "For it to be at USI's library where everyone in the community can see it, especially young people who are just getting started in life… that makes us proud."
During the summer of 2016, Guild members held workshops at EVPL branches to showcase and teach the art of quilting, an art which TenBarge says "keeps growing and developing." She estimates the 30 or so people who worked on the bicentennial quilt spent hundreds of hours getting it just right. But it all started with her design.
"I looked back at Indiana and just thought, 'what stands out to me?'" TenBarge said. That question led her to a design featuring the colors of the state flag (blue and gold), the state bird (cardinal), a race car (Indianapolis 500), a train (state motto "Crossroads of America" and the underground railroad), a log cabin (heritage) and 18 stars around the border with a large star in the center to represent Indiana's position as the 19th state.
University archivist Jennifer Greene hopes this gift from the Raintree Quilters Guild of Evansville, made possible through its collaboration with the EVPL, will inspire others to donate materials to the University Archives and Special Collections. "I'm always looking to connect with our community members and build our regional collections." Greene explained. 
The quilt will be displayed on the first floor of David L. Rice Library across from Lab B for 10 months of the year. Greene says it will be moved to the University Archives on the third floor of the library and laid flat for about six weeks each summer to preserve its quality. 
Click here to view a slideshow of the bicentennial quilt from its dedication at David L. Rice Library.
Bicentennial Quilt Facts
Title: Indiana Bicentennial Quilt: 1816-2016
Designed by: Olivia TenBarge
Pieced by: Janella Baumgart, Sean Lincoln, Stacy Jensen, Sherri Meyer, Olivia TenBarge, Maddy T. Harms, Judy Fenwick, Erma Marie Houchin, Norah Taylor, Sarah K. TenBarge, Katherine Taylor, Janet Pfettscher, Linda Housamn, Helen Johnson, Makayla M. TenBarge, Barbara Staub, Linda Bohlen, Irene Scheffler, Brenda Webster, Rosella Romans, Reagan Engbers, Ella Clare Engbers, Lucy Anne Kuhn, Rachelle Bastin, Nancy Higgs, Helen Spencer, Katie Reineke, Kim Merkel
Quilted by: Linda Bohlen