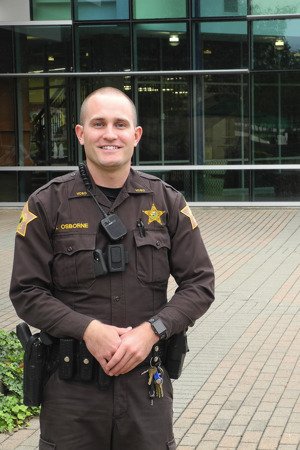 Pressure is nothing new to Deputy Logan Osborne '14--as a student athlete, golf kept him on the road four to five days a week. During tournament time, he was away from school three to four days at a time. He recalled relying on friends for their notes and professors for their mercy. He became adept at studying in a variety of places, from airports to clubhouses. 
Between being a top performer as a collegiate golfer at USI and winning the 2013 Evansville Courier and Press Men's City Golf Tournament his junior year, he remained focused on graduating on time and getting into law enforcement. As a student, he enjoyed sociology classes with Dr. Andrew Buck, who kept class fun and always kept up with Osborne's golf.
As a golfer, he and Buck had a lot to talk about. In his first year as a Screaming Eagle, Osborne led USI in eight of the 10 tournaments they played, personally finishing in the top five twice. By his senior year, he competed in the NCAA Division II Super Regionals, was named All-Conference by the GLVC and was names to the PING All-Midwest Regional Team, the only USI golfer to do so. 
After graduation, he continued his education when he was accepted into the Vanderburgh County Sheriff's Office. Attending the 15-week Indiana Law Enforcement Academy, he learned about the many types of law enforcement ranging from human behavior to constitutional provisions.
As a young deputy, his goal was to help people and give back. His first job was at the Vanderburgh County Jail where he worked as a confinement officer for two years. "It was culture shock," he admitted smiling. "I was coming straight from a golf course, where there is more restraint. At the jail, everyone is tense. There's a lot of anger, frustration and yelling. Super stressful. After you spend a little time there, everything else is easy." He followed up the Zen he gets on the golf course with a second city golf title in 2016.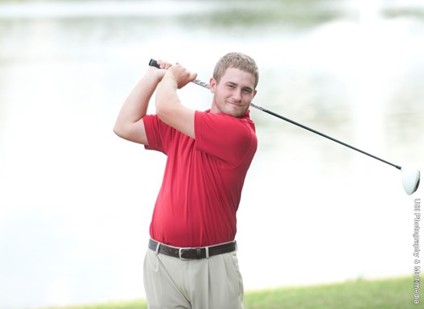 When the job at his alma mater came open this summer, he thought giving back to USI seemed like the perfect opportunity. "On campus, being young helps. I'm not that much older than most of the students here. It keeps me relatable," said Osborne. "It makes it a little easier for me to talk to the students, and them to talk to me."
Working second shift, he gets to see a different side of campus. Most of his real work is done in housing. It can range from a car accident to alcohol violations to fire alarms being set off by students who have not mastered the art of cooking.
After one too many fire alarms, and all the paperwork fire alarms require, Osborne finds solace on foot patrol, walking on USI's beautiful campus, meeting students and catching up with former professors and  golf coach, Jim Chaney.