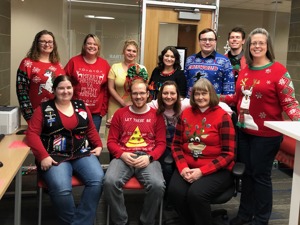 High on her office wall, above even her diplomas and certificates, Linda Trible, associate registrar, proudly displays another hard-earned honor: the 2017 Golden Spoon. Trible collected the Spoon– and year-long office bragging rights—by wowing the judges of the Registrar's Office Holiday Cook-Off with her baked potato soup. "I was worried they would take it [the Golden Spoon] back this year as a traveling trophy," she explained, "but they said I can keep it forever." 
The friendly (but fierce) food competition is one of several end-of-semester traditions that keep spirits light in the Registrar's Office during this particularly busy time of year. When staff members get overwhelmed or need a quick break running end of term processes, finishing Commencement duties or adjusting the Spring class schedule, Melissa Miller, assistant registrar, is ready.
"There's something for everybody that brings the office together," Miller says about the 12

days of holiday-themed contests and crafts she organizes each December. In addition to the Cook-Off and a few other food-related celebrations, her calendar features "Make a Snowflake Day," "Random Act of Kindness Day" and "Ugly Sweater Day."
"I think it keeps them coming to work with a smile," she added. Miller says the festive atmosphere before Winter Recess was established well before she joined the Registrar's Office in 2007. And judging by the feedback she gets from colleagues like Angel Nelson and Carolyn Campbell, it's not going anywhere.
"It really helps get me into the spirit, and I think it really promotes teamwork among the staff," explained Nelson, assistant registrar and last year's Cook-Off Bronze Spoon winner. "You get stressed out and you can go spend five minutes making an ornament, and it helps relieve the stress."
"I think everybody gets really excited about it. Everybody thinks it's fun," Campbell, a senior administrative assistant, added about the small but appreciated additions to the work day. "It gets changed up a little bit every year."
Some favorites, however, withstand the test of time. Elf bowling on the computer remains one of the most popular activities. And the Cook-Off, now in its third year, seems to be gaining momentum.
While Linda Trible's Golden Spoon may be safe on her wall, this year's bragging rights have officially been passed to assistant registrar Tracy Sinn. Chocolate Chip Cookie Dough Dip landed her top honors from three (lucky) USI employees chosen to serve as judges. "I was shocked," Sinn said. "I didn't intend to win anything, I just wanted to bring something that everybody could enjoy."
Don't let that modesty fool you. She's already got her utensil-turned-trophy hanging from the nameplate outside her office. Bragging rights, indeed.
Holiday Photos from the Registrar's Office
Winning Recipes
Tracy Sinn's Chocolate Chip Cookie Dough Dip (2018 Golden Spoon Winner)
8 oz (one block) cream cheese, softened to room temperature
1/3 C salted butter/margarine, softened to room temperature
1/3 C packed light brown sugar
1 1/2 tsp vanilla extract
1/2 C powdered sugar
1 C mini chocolate chips
Using a mixer, mix butter and cream cheese on medium speed until combined and smooth. On low speed, mix in brown sugar, vanilla and powdered sugar. Mix until thoroughly combined. Stir in chocolate chips. Serve with graham crackers or vanilla wafers.
Linda Trible's Baked Potato Soup (2017 Golden Spoon Winner)
2/3 C butter or margarine
2/3 C all-purpose flour
7 C milk
4 large baking potatoes (baked, cooled, peeled and cubed)
4 green onions, chopped
12 bacon strips (cooked & crumbled)
1 ¼ C shredded cheddar cheese
1 C sour cream
1 tsp salt
1 tsp pepper
In a soup kettle or Dutch oven, melt butter.  Stir in flour.  Heat & stir until smooth.  Gradually add milk, stirring constantly until thickened.  Add potatoes & onions.  Bring to a boil, stirring constantly.  Reduce heat & simmer 10 minutes.  Add bacon, cheese, sour cream, salt & pepper; stir until cheese is melted.  Serve and ENJOY!
Sandy Frank's Slow-Cooker Chicken Tortilla Soup (2017 Silver Spoon Winner)
1 lb shredded, cooked chicken
1 (15 oz) can whole peeled tomatoes, mashed (Chef's note: Sandy used Rotel diced tomatoes instead)
1 (10 oz) can enchilada sauce
1 medium onion, choppped
1 (4 oz) can chopped green chile peppers
2 cloves garlic, minced
2 C water (Chef's note: Sandy used approximately 30 oz of chicken broth in place of water and chicken broth)
1 (14.5 oz) can chicken broth (Chef's note: Sandy used approximately 30 oz of chicken broth in place of water and chicken broth)
1 tsp cumin
1 tsp chili powder
1 tsp salt
1/4 tsp black pepper
1 bay leaf
1 (10 oz) package frozen corn
1 tbsp cilantro, chopped
7 corn tortillas
Vegetable oil 
Place chicken, tomatoes, enchilada sauce, onion, green chiles and garlic into a slow cooker. Pour in water and chicken broth and season with cumin, chili powder, salt, pepper and bay leaf. Stir in corn and cilantro. Cover and cook on Low setting for 6 to 8 hours or on High setting for 3 to 4 hours. Preheat oven to 400 degrees F (200 degrees C). Lightly brush both sides of tortillas with oil. Cut tortillas into strips, then spread on a baking sheet. Bake in preheated oven until crisp, about 10 to 15 minutes. To serve, sprinkle tortilla strips over soup.
Willie's Cream of Broccoli Soup (2017 Bronze Spoon Winner, Angel Nelson's dad's recipe)
1 lb fresh broccoli
1 C flour, sifted
1 qt half & half
¼ tsp white pepper
8 oz butter
1 qt chicken broth
1 tsp salt
shredded cheese (optional)
Clean the broccoli, remove stems and cut into ½ inch pieces. Steam in ½ cup water until tender. Do not drain. Melt butter in saucepan over medium heat. Add flour to make a roux. Cook 2 – 4 minutes. Add chicken broth slowly, stirring with a whisk; bring mixture to a boil. Turn heat to low and add the broccoli, half & half, salt & pepper.  Heat, but do not boil! Top with shredded cheese (if desired). Enjoy!