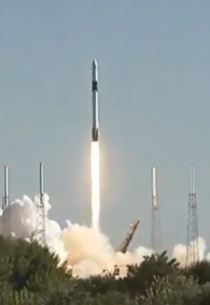 After years of planning, construction and testing, the UNITE CubeSAT, a small research satellite designed and built entirely by USI undergraduate students under the direction of Dr. Glenn Kissel, associate professor of engineering, was launched into space on Wednesday, December 5 aboard a SpaceX Dragon cargo ship bound for the International Space Station. When it is launched from the ISS in 2019, it will be the first deployed satellite created by an Indiana higher education institution.
Within a month or two of arriving at the space station, astronauts will eject the CubeSat into orbit from the deployer using the Japanese Experiment Module Remote Manipulator System. The UNITE CubeSat is then expected to orbit the Earth for almost 15 months collecting plasma and temperature data while its orbital decay is carefully tracked. Funding for the project was made possible through NASA's Undergraduate Student Instrument Project.
Selected links to coverage of the launch, including interviews with students as they watched it live from Cape Canaveral, are below:
Naval Sea Systems Command Website (NSWC Crane)
For more information about the UNITE CubeSAT project and the team of students and faculty that has helped it come to life, read this feature story from the fall 2017 issue of illume magazine or this May 2018 press release. You can also view a gallery of images detailing the construction and testing of the CubeSAT on the USI Photography website.