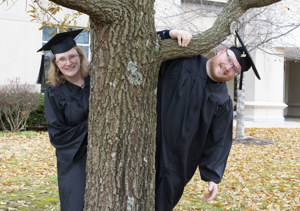 Mom and Dad, Mrs. and Mr. and senior administrative assistant and intern are all titles Shawn and Calvin Williams have held in recent years. Shawn Williams, senior administrative assistant for Alumni Relations and Volunteer USI, and her husband, Calvin Williams, an intern for the Shawnee National Forest in Harrisburg, Illinois, will both be adding a new title to their list after fall commencement – USI graduate. The Williams will be updating their curriculum vitae with Bachelor of Professional Studies (BPS) degrees.
USI's BPS degree program provides adult students with a convenient, affordable path to a college degree. Designed for working adults, military veterans, active-duty service members and other non-traditional students, the BPS degree program empowers individuals to build on prior knowledge they have gained both inside and outside of the classroom.
Shawn Williams decided to work towards her BPS degree after she started working for the Alumni Relations office. She noticed all of the other individuals that worked in the office had a number beside their name indicating they were USI alumni, and she wanted a number beside her name, too. Before completing her degree at USI, she earned a bachelor's degree in history from the University of Evansville. "Now, I can officially say I'm a USI alumnae, also," she said.
As for Calvin Williams, he decided to work towards his BPA degree for different reasons. In 2006, he pursued an education at another academic institution, but never completed the degree after taking a break from his education to serve in the military. After serving, he decided he wanted to revisit his education and attain a college degree. "It just felt like something that I really wanted to accomplish," he said. "I haven't had a lot of people in my family that have finished a degree -- it's just a big accomplishment."     
Although both Shawn and Calvin Williams have different driving forces behind their BPS degrees, they both can agree that their biggest motivators throughout the process have been each other, and their 4-year-old son, Hudson. "I wouldn't have been able to do it without her or my son giving me the motivation to finish," Calvin Williams said. "I chose to further my education to show Hudson that if you can do one thing, you can do another. You've got to keep moving forward," Shawn Williams said.
The Williams have both incorporated their classroom knowledge into their current professional positions. Calvin Williams says he's been able to come up with more innovative ideas for the Shawnee National Forest because of the curriculum he's been exposed to through the program. Shawn Williams credits her growing curiosity for Adobe software to an Intro to Graphic Design course she completed throughout the BPS degree program.
Through the process, the Williams have gained more than a physical degree. "I've met different professors and people that I didn't know before. I have more connections and more people to get ideas from," Shawn Williams said. "I've definitely learned how to teach myself. I've learned to read content extra, and research if I don't know the answer to something," Calvin Williams said.
The Williams are excited to see what's next for them, now that they've added a USI degree to their resumes. Whatever it is, there's a good chance they'll be doing it together.