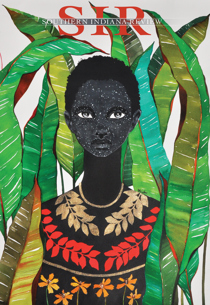 The latest issue of Southern Indiana Review (SIR), the University of Southern Indiana's literary review, is now available for purchase. SIR presents a cross-section of emerging and established artists and writers whose work is both regional and national in scope and degree of recognition. With the support of the Indiana Arts Commission and National Endowment for the Arts, SIR is published in October and May by the University of Southern Indiana and sponsored by the College of Liberal Arts. Find out more about SIR.
SIR features award winning, talented writers from around the globe, in poetry, fiction, nonfiction and drama. View the complete writers' list and bios for the Fall 2018 issue. SIR is available for purchase online, in the USI Campus Store and at Barnes and Noble.
This issue features artwork from artist Brianna McCarthy, a mixed media visual communicator working and living in Trinidad and Tobago. She is a self-taught artist and aims to create a new discourse examining issues of beauty, stereotypes, and the intricacies and dynamics of representing Afro-Caribbean women who are portrayed as being strong, long-suffering, exoticized and picturesque beings against a backdrop of poverty, hardship, abuse and/or scorn. Her form takes shape through masking and performance art, fabric collage, traditional media and installation pieces.
Contributors
Artwork
Poetry

Lindsay Remee Ahl
Leila Chatti
Caroline Crew
Tommy D'Addario
Raphael Dagold's
Rebecca Hazelton
Matthew Kilbane
BenjamÌn Naka-Hasebe Kingsley
Keetje Kuipers
Marty McConnell
Jacques J. Rancourt
Frances Simán
Brian Tierney
Michael Torres


Fiction
Nonfiction

Rochelle Hurt
Nancy McCabe

Drama

James Armstrong
Dave Harris
Wynne Hungerford