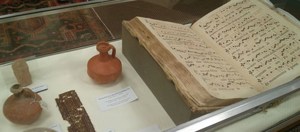 Susan Colaricci Sauls M'16, director of University Art Collections, unlocks a glass display case to offer a closer look at one of the Lawrence Library's prized, ancient artifacts. The small Greek red clay jar inside, believed to have been shaped more than 2,000 years ago, gives her chills. "You just think about where it's been," Sauls says, "and the fact that it's still intact."
"It just blows my mind that something that was made in BCE (Before the Common Era) is still here," adds Corene Cunningham, senior student archivist. "You think about today and how things are made—and they break so easily. But this pot is still here after thousands of years, and that is the coolest thing to me." Adds Cunningham, "I am always in awe when I'm down here, kind of starstruck in a way at times."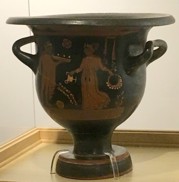 Cunningham and Sauls aren't interested in keeping that treasured piece of history—or any of the others in the Lawrence Library—under wraps. They want USI students, faculty, staff and members of the greater Evansville community to experience the awe and appreciation they feel each time they enter the Liberal Arts Center and head downstairs to the Library, a place Sauls calls "the best kept secret on campus." Unlike some museums or galleries, the Lawrence Library welcomes interaction: a pair of gloves and a gentle touch are all visitors need to travel back in time.
"The donor's intention when he gave this, he wanted students to work with it," explains Sauls. "One student, I thought he was going to explode when he picked up that Roman jug. He was just so happy holding it, and you see that, students getting excited."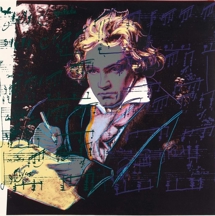 To replicate that feeling, the Library is planning a new weekly event called "Tuesday Treasures at Two." Each Tuesday at 2 p.m., beginning on February 19, a different artifact will be available to hold or touch. "We have books, we have pieces of Columbian gold, pots from Greece and Rome, we have all kinds of artifacts, scrolls, Japanese prints, kimonos, a lot of different things," Sauls explains. "It's almost as if we're guardian angels for these things. Someone created these. They've worked hard, they've used their talents to create this, and we protect it, take care of it and share it with other people."

Sauls and her student archivists will be sharing plenty of other items soon. After months of research and planning, they're swapping out the Library's latest exhibit, Around the World, for three new exhibits, in hopes of luring a broader audience.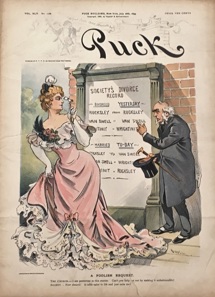 May the Music Never End, inspired by the Library's Greek Bell Krater, circa 360 BCE, will showcase musical artifacts, manuscripts and prints from various countries, including Andy Warhol's Beethoven. It joins two smaller displays—Authentic Impressions, featuring antique seals, and What Fools These Mortals Be!, which offers a glimpse into life at the end of the 19th and start of the 20th centuries, through the pages of the satire magazine Puck. All three exhibits open Monday, February 18, 2019, with a preview on Sunday, February 17.
Though it may hold some hidden secrets, Sauls doesn't want the Lawrence Library to be a secret anymore. "People are always surprised. They're like, 'This is on campus? We have this?' Yes, we do," she says proudly.
She welcomes students to use the space for reading or homework and encourages faculty to consider it for small lectures, readings or seminar classes. Research possibilities abound. "We're always looking to increase what we know about these things," Sauls says.
Now that the secret's out, it's up to the rest of us to pay her, and the Lawrence Library, a visit.
About the Lawrence Library
Named for John M. Lawrence '73 for his generous support of the College of Liberal Arts and contributions to the Library, including a collection of medieval manuscripts and other artifacts
Located in the lower level of the Liberal Arts Center in room 0119
Open to the University community and the public
Spring Hours: Monday by appointment; Tuesday/Thursday 1 to 6 p.m.; Wednesday/Friday 11 a.m. to 12:30 p.m. and 2 to 4 p.m.
Also open by appointment during day and evening hours; to reserve call Susan Colaricci Sauls at 812-228-5116 or email

scsauls@usi.edu

Accepting applications for paid student archivists for the 2019-2020 academic year the last week in March; those interested should email Susan Colaricci Sauls at scsauls@usi.edu to request an application

Read more

about the Lawrence Library, including the scope of its collections and the involvement of its student archivists