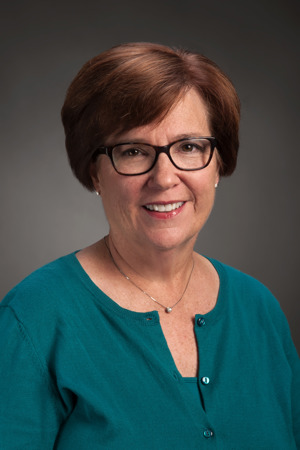 Dr. Joyce Gulley, professor of education, was the kind of kid who played school from the moment she was old enough to make her stuffed animals listen. Whether as a teacher or a student, she knew the classroom was where she belonged.
Gulley, who now guides aspiring teachers through literacy education courses at USI, is praised for her ability to connect with students and staff not only on a professional level, but also on a personal, "I'll always be here for you," level. As one colleague put it, Gulley "represents our ideal of community, service and civility," and when she meets with visiting families on campus, helps faculty with professional issues or connects with students, "they walk away feeling better about themselves and the University."
Before she headed south to USI in 1994, Gulley worked as an elementary school teacher in Indianapolis. "I finished the school year teaching my third, fourth and fifth graders on a Friday in June and started teaching summer school at USI the following Tuesday," she recalls. Originally hired as an adjunct, she is now a full-time professor with 25 years of higher education experience. "I loved being an elementary school teacher, but I love teaching at USI even more (no recess duty)," she explains.
Looking back, Gulley remembers her initial shock at (and appreciation of) USI's small class sizes. She completed her undergraduate degree at a large university where it was rare for professors to know students' names. (In fact, she says none ever learned hers.) Discovering the difference at USI was exciting. "I love that the small class sizes allow me to make personal connections with my students," she says. "I really get to know them, and I hope they know how much I care about them. There are students from 20 years ago (or more) with whom I am still in touch."
Recently one of those former students showed his appreciation for Gulley by making a special trip to USI from Indianapolis to speak with one of her UNIV 101 classes.
"We really had a good time–the relationships formed with students are the best part of the job," Gulley says. "I still love being in the classroom, sharing my love of literature with my students, watching them mature into teachers and then hearing about their careers and their lives after they have been out of college a while."
Who knew that teaching her teddy bears how to read would lead Gulley to shape USI role models for decades.
"I've had so many wonderful teachers in my life, and every day I get an opportunity to pay that forward," she says. "It's like this long chain of influence–it's miraculous."
Fast Facts about Dr. Joyce Gulley
Has lived in the capital city of three states--Illinois, Indiana and South Carolina

Two department chairs in the Pott College of Science, Engineering, and Education are former students

Considers herself a library junkie who loves to check out the childrens' rooms at libraries around the country
Submit your own Screagle Pride Shout Out to be featured in USI Today. Please include as much detailed information about the person you are nominating as possible.