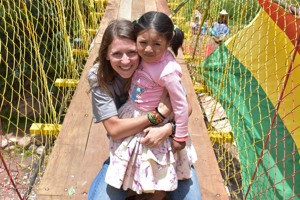 Holly Bartelt '12 "fell in love with dirt, rebar and rock" while growing up in the small town of Huntingburg, Indiana, about an hour northeast of Evansville in Dubois County. "I learned about erosion and scour before I knew what the words erosion and scour were," she explains. As she shadowed her grandfather in his woodshed and logged countless miles on the rock road near her family's farm, Bartelt developed two passions that would eventually lead her to USI: running and engineering.
Once on campus, Bartelt upped her mileage as a member of USI's track and cross country teams while expanding her interest in infrastructure as the only female in many of her civil engineering classes. "Infrastructure provides the means for one to live with dignity, to live safely," she says.
Her first job, with a bridge group in Indianapolis, meant work on projects in Indiana, Texas, Tennessee—and even the Big Four Bridge in Louisville. Life was good. And then, it unexpectedly got even better.
"I had a mentor say, 'Hey, do you want to go to Kenya? We need a bridge engineer. We need somebody to do an assessment on a crossing,'" Bartelt recalls. "And that's when engineering got a face." The smiling face of a young, orphaned boy, in particular, and the memory of the makeshift planks of wood he and other children used to pass over a ravine, stuck with her. "I had to design more of these bridges. I had to be a part of this," she says.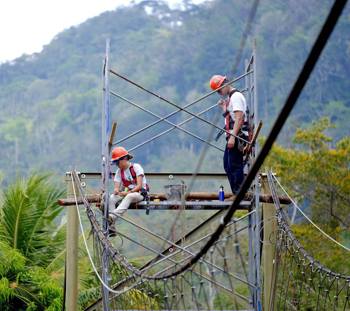 Four years later, Bartelt continues to help build bridges around the world, now in a full-time capacity as senior programs and accounts manager at Bridges to Prosperity. As she explained to a group of USI engineering students while visiting campus (at the request of professor Dr. Marco Lara Gracia, associate professor of engineering) in January 2019, the nonprofit social enterprise has built close to 300 footbridges over impassible rivers in more than 20 developing countries, impacting over a million people since its creation in 2001. "I know a lot of people don't realize when they're going over a bridge. The communities we work with, to have access to all of these essential services, you better believe they know when they're going over a bridge," Bartelt says.
The bridges Bartelt and her coworkers design and build—almost entirely with local resources, from materials to manpower—shave critical minutes, if not hours, from the time needed for communities to access clean water, health care, education and economic opportunities. Often, Bartelt adds, they prevent injury, and even death.
"I completely 100 percent believe in all infrastructure… but it hits a lot harder where we work," Bartelt says."It really is about creating the connection, bringing these communities together. When communities are connected, they can do some amazing things."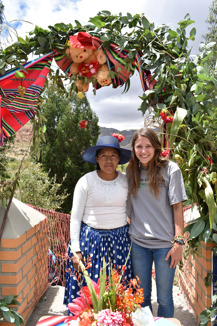 Balance is key to Bartelt's current success, much the same as it was during her time as a student athlete at USI. Now based in Denver, she works with every part of the Bridges to Prosperity organization, often communicating with architects, engineers and contractors thousands of miles away. She credits her college experience with helping prepare her for the challenges she faces each day. A senior project that, fittingly, tasked Bartelt and three classmates with designing a bridge still stands out. "The tips and tricks and project management skills that the professors allowed us to gain—that's when I knew I was in the correct field," she remembers. "I loved that project."
It's the same feeling Bartelt has now: she's in the right place, doing the right thing, all because she recognized what she loved and took a chance. She encourages current USI students to do the same. "Whatever your passion is, grab on and research more, find more. Dig in if you really like it. Find your passion, inside or outside of your career, and share it."
About Bridges to Prosperity (B2P)
Founded by Ken Frantz who, in March 2001, was moved to action by this photo in National Geographic that showed men using ropes to pull each other across a broken bridge span in Ethiopia
Locally supported by the Architecture, Engineering and Construction (AEC) industry, including Traylor Bros. See a full list of B2P partners
Constructs suspension and suspended footbridges over impassable rivers; suspension bridges utilize overhead cables and suspended bridges utilize an anchor point on either side of the crossing
Responsible for building more than 290 footbridges in over 20 countries, including Rwanda, Uganda and Bolivia
The average bridge costs $60,000 and takes about three months to construct
Learn more at bridgestoprosperity.org