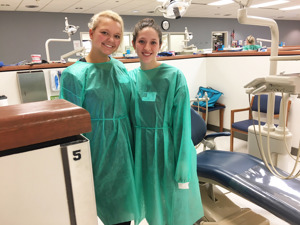 Four days. One hundred forty-four patients. The USI Dental Clinic isn't just busy; it's booked solid.
"Appointments are full every time, we're jam-packed every time—and we always have a wait list," says Dr. Kim Parsons, chair of USI's Dental Assisting and Dental Hygiene programs.
The clinic is active throughout the school year, but right now, the phone is ringing off the hook.
"This is our Give Back to Veterans Week," Parsons explains, a time each semester when students and faculty in the clinic focus solely on providing free treatment to veterans, from 8 a.m. until 9:30 p.m.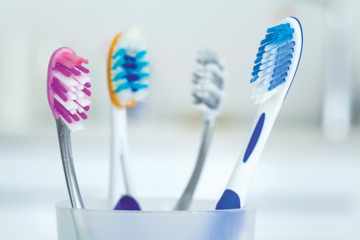 "Cleanings, x-rays, fluoride, sealants: preventative care is what they can do," she says.
Unlike some initiatives that take time to grow, the collaboration between USI's Dental Hygiene program, the Southwest Indiana Area Health Education Center (SWI-AHEC) and USI's Veteran, Military and Family Resource Center has been successful since its start in fall 2015.
"The problem is that veterans get medical care, but oftentimes their dental care is not covered," says Parsons. "By providing free dental care for them, we're able to take care of a need that otherwise is not going to be met."
"I think it's really important for our students to also be able to step outside their box a little bit and get to know different people and different needs around the community," Parsons adds.
Roommates Lindsey Nelson '20 and Hayley Smith '20 are two of the 46 dental hygiene students working with veterans in the clinic March 11-14. "To be able to help them, I just feel really grateful—especially with all that they've done for us," Smith says, after wrapping up her first appointment of the day.
"He [Smith's first patient] was telling me his background and why he became a [member of the military] and where he's been around the world, and I just thought it was really interesting and cool to hear about that," she says.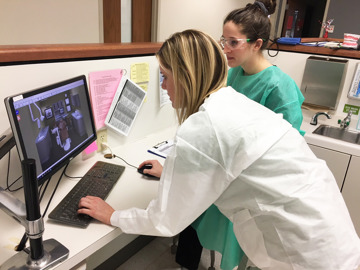 "The veterans tend to talk a lot and share a lot, so the students probably spend a little more time with them because there's more communication or interaction than just cleaning their teeth," explains Parsons. "But the students seem to really enjoy it, and they like hearing the stories."
Not only is that connection enjoyable, it's valuable—helping students develop conversation and listening skills in addition to their clinical knowledge and experience.
"Obviously knowing how to do it all [dental hygiene skills] is important but being able to talk to the patient and relate to them and help them understand what you're doing—you wouldn't be able to do any of the other stuff without that," says Nelson.
(The USI Dental Clinic aims to serve every veteran seeking treatment during its Give Back Weeks. Overflow appointments are honored, at no cost, at a later date.
The clinic is open to adults and children from September through April. Call 812-464-1706 to schedule an appointment.)