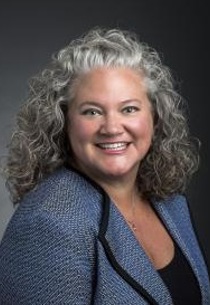 Following a national search, Dr. Marcia Kiessling, vice president for Student Affairs, has announced the appointment of Dr. Jennifer Hammat as the dean of students at the University of Southern Indiana. Hammat currently serves as university Title IX coordinator for the Compliance, Diversity, and Ethics Office at George Mason University in Fairfax, Virginia. The appointment is effective May 6, 2019.
"Dr. Hammat has a great deal of experience in higher education that will be an asset to the Dean of Students Office as well as to the University," said Kiessling. "She also has a passion for working with students, and I'm confident she will continue the important work we do in supporting our students and our campus community effectively."
The USI dean of students reports to and represents the vice president for Student Affairs and serves as a member of the Provost's Council and Student Affairs Directors Team. The dean of students enhances the University mission by engaging students in programs and services that help develop responsible, contributing members of a global society; provides leadership and oversight to the Dean of Students Office, Counseling Center and the University Health Center; chairs the CARE Team and Eagle Experience Team; serves as an advocate for students in the University community; and is primary advisor to the Student Government Association.
Hammat holds doctorate and master's degree in higher education administration from Texas Tech University, and a bachelor's degree in organizational communication from Murray State University in Kentucky.
Prior to her current position at George Mason, she served in several roles at The University of Texas at Austin, including from 2006 to 2015 as associate vice president for University Compliance Services, Title IX coordinator, Clery Act coordinator, as a representative of the Youth Protection Program, assistant vice president for student affairs, and interim director for Texas Student Media. From 1998 to 2006, at Texas Tech University, she served as the director, associate director and assistant director of its Student Judicial Program. She also worked as an area coordinator, assistant area coordinator, hall director and assistant complex director for Housing and Residence Life. From 1995 to 1998 she served in the role of area coordinator, assignment coordinator and publications manager at the University of North Florida in Jacksonville.
Hammat also has teaching experience at the University of Texas at Austin, teaching courses in education administration and the economics and finance of higher education and its fundraising implications. 
She holds several certifications, is a member of a number of professional associations, as has been involved with a wide variety of programs, presentations and committees.
Hammat is the recipient of several awards including The Eyes of Texas Award from the University of Texas at Austin, the President's Quality Service Award from Texas Tech University, and a Communicator Award honoring excellence in marketing and communications.