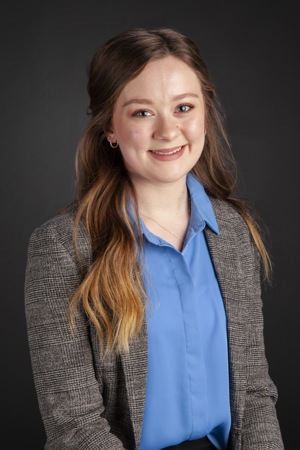 Riley K. Cornett '19, who will graduate magna cum laude with a Bachelor of Science degree in Communication Studies during the College of Liberal Arts Commencement Ceremony, will receive the President's Medal, the highest honor presented to a graduate in the class of 2019.
A native of Mt. Vernon, Illinois, Cornett knew from an early age that she was drawn to educational spaces and has sought to provide and promote opportunities for students entering higher education. She is being recognized for her years of volunteer service, peer mentorship and enthusiastic passion as an advocate for USI.
During her time at USI, she has served in various capacities across multiple student organizations, including the Ruston-O'Bannon Area Council, AMIGOs, and mentorship positions within Student Ambassadors and the Honors Program.
She is praised for her work ethic, professionalism, character and performance in the classroom and in her extracurricular activities. She has been described as a high achiever, a respected leader, and as a role model for student service-leadership among her peers. As a representative of USI's student body, Cornett has spoken to members of the Indiana Commission for Higher Education and at USI's Fuquay Welcome Center opening ceremony.
While working as a radio personality for 95.7 FM The Spin, USI's student radio station, Cornett and her colleague Colin McDuffee '20 were awarded first place in the national "On Air Personality" competition of the College Broadcasters, Incorporated National Student Production Awards, and the "Radio Show" competition of the Indiana Association of School Broadcasters.
As a student, her awards and honors include the David L. Rice Merit Scholarship, Emma A. Gorby Endowed Deans Scholarship and the 2018 Spirit of the Eagle Award, given by USI's Student Government Association annually to those dedicated to creating a better USI.
Following her graduation, she plans to pursue a master's degree in higher education administration and student affairs with the eventual goal of employment as a dean of students in a university setting. 
Cornett is the daughter of Mary and Larry Cornett. Her sister, Ashtyn, is a student at USI and plans to graduate in the fall of 2019.
Other finalists for the President's Medal from the Class of 2019 included Haley Limper, Hannah Spurgeon and Kristen Stout. The Student Affairs Committee of Faculty Senate annually selects the recipient of the President's Medal.