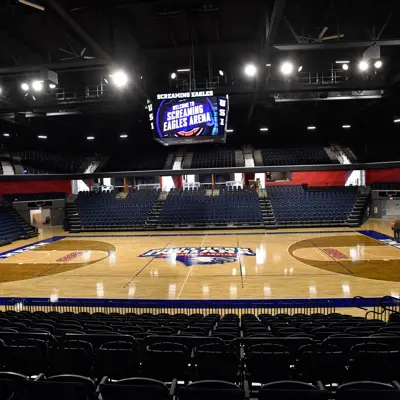 USI debuts new Screaming Eagles Arena
The University of Southern Indiana debuted its new 4,800-seat Screaming Eagles Arena to alumni and media Monday, April 1 ahead of two public events later this week.
On Thursday, April 4, the Arena will have its free public debut for "Leadership: Taking Charge," a moderated discussion with General Colin L. Powell, USA (Ret.)" at 6 p.m. General Powell will be the fourth speaker in the University's Romain College of Business Innovative Speaker Series. 
At 10:30 a.m. on Friday, April 5, the public is invited to the Arena to attend the inauguration of Ronald S. Rochon as the fourth president of the University of Southern Indiana. Attendance is free and seating will be open. Following the ceremony, a luncheon for all guests will be held in the Recreation, Fitness, and Wellness Center, located adjacent to the Arena.
View a slideshow of images of the new Arena. Check back later this week as more images will added to this gallery!
See photos, video from Screaming Eagles Arena featured in the Evansville Courier & Press
More about the Screaming Eagles Arena
The University of Southern Indiana's Screaming Eagles Arena was completed in spring 2019. It is unlike any other facility in the Tri-state region and serves as home to all USI's nationally-recognized Screaming Eagles athletic programs, including Men's and Women's Basketball and Volleyball, which will be played in the facility.
The Arena also offers outstanding locker rooms, athletic training and conditioning spaces and will be a major factor in recruiting new athletic talent to the University. With the completion of this facility, basketball and volleyball games can now be held in the Arena while classes, intramurals and practices go on as scheduled in the Physical Activities Center (PAC).
Additionally, the Arena will be used each year for University commencement ceremonies, to host nationally-known speaker engagements, to provide more space for student activities, and would serve as a community emergency shelter, if needed.
Increased seating is now available for commencements and the facility makes it possible for USI to host larger events on campus.
The addition of the Screagle Zone™ for USI merchandise and three concessions stands will create a positive game/event-day experience for fans and guests. A courtside Varsity Club Room and four box suites add new opportunities for VIP viewing of games and events.
Other Arena Fast Facts
90,000 square feet
4,800 seats
12 feet is total distance from front row seating to court
11,745 tons of concrete used in construction
  1        Screagle Zone™-fan store
  4        173-inch Scoreboard Monitors
  4        National Championship Trophies (so far)
13        Regional Championship trophies (so far)
  4        Box Suites
  3        Basketball Courts
  3        Volleyball Courts
  3        Locker Rooms
  3        Concession Stands
  1        Large Varsity Club Room with eagle's eye view of the floor
Ticket Pricing
Reserved season tickets for 2019-2020 basketball season (chairback seating):

$180 lower level and $165 upper level.  Limited amount of courtside season ticket seating $400.


Single game (chairback seat) $15 adults (men's and women's doubleheader), $10 for single game, $5 non-USI students (K-12), USI students remain free with ID, the south end bleacher seating is the designated student section



Seat selection for current season ticket holders and Varsity Club members will begin in mid-June and they will be receiving details soon on this process. New season ticket holders will follow later in the summer.
Box Suites
Four suites in the Arena:
University food service provider Sodexo has purchased the rights to one suite
President's suite for University use
Sponsorships opportunities
Community rental/use-parties, recognition events, work outings, etc.,
$500 per event (15 seats). Menu available soon. Can cater to suit.