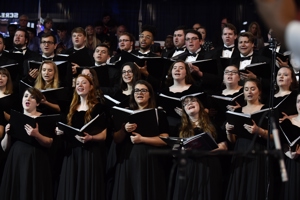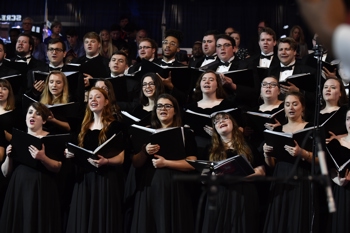 Forty-six members of the USI Chamber Choir are bound for New York City's famed Carnegie Hall. The ensemble will depart from USI Wednesday evening ahead of its performance in the Masterwork Festival Chorus 20th Anniversary Concert Sunday, May 26.
USI is one of five higher education institutions that will share the stage to perform Gabriel Fauré's Requiem, a 45-minute, seven-movement piece based on the Catholic Mass of the Dead. "It is absolutely beautiful," says Daniel Craig, associate professor of music and director of the USI Chamber Choir. The Chamber Choir will be accompanied by the New York City Chamber Orchestra, under the direction of conductor Simon Carrington.
"For many students on the trip, this will be their first time in New York City," Craig says. "They have commented about how fascinating it is that their very first trip to New York City offers them an opportunity to sing in Carnegie Hall." It was much the same for Craig in 2011, when he traveled to New York for the first time, also with the USI Chamber Choir.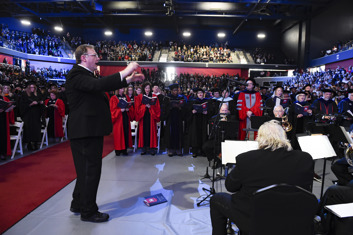 The Chamber Choir has been preparing since January and performed the Requiem during its Spring Concert in Evansville in April. "We had to send them [Carnegie Hall] a complete recording of all of the movements to prove that we were ready to go," explains Craig, who says USI's pair of winning performances at an international festival in Ireland and participation in another festival in Poland have opened doors for the Chamber Choir, like the one leading to Carnegie Hall.
While in New York, USI students will spend much of their time rehearsing, including one rehearsal in Carnegie Hall. They will also attend a reception hosted by President Rochon, the USI Foundation, alumni and supporters, as well as a Broadway show. The group will return to Evansville Monday, May 27.
The Masterwork Festival Chorus 20th Anniversary Concert begins at 8:30 p.m. It will not be available for live viewing.