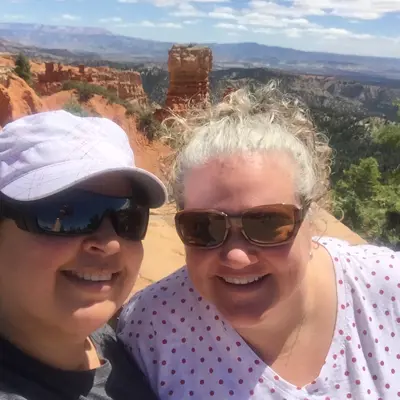 Getting to know you: Dr. Jennifer Hammat
Dr. Jennifer Hammat, USI's new dean of students, has spent her entire life in higher education. The framed proof-a newspaper article featuring her (literal) baby face-hangs from the wall of her UC East office. "I was born into a fraternity house," she explains. "My dad was the house father of Zeta Beta Tau (ZBT) at Marshall University, and my mom was working on her master's degree."
Later, at Murray State University, Hammat cruised their residence hall on her Big Wheel and peddled Girl Scout cookies to hungry college students. "We had 700 or 800 boxes delivered," she says.
Even her summer vacations spent at housing conferences seemed… normal. "I thought everybody talked about Board of Regents meetings at dinner. I thought everybody talked about budget reductions and financing by the State. For the longest time I thought everybody received The Chronicle of Higher Education in their home. I had no idea that was unique."
A self-described "people watcher," Hammat believes her upbringing, centered around so many college students, influenced her outgoing personality. "Shy was never really an option for me," says the former thespian and speech team member. But as an administrator and advocate, she's often drawn to students who are more reserved. "You've got to be a good observer. If you see someone who looks to be struggling, and they're sitting by themselves, introduce yourself. When we tell parents, 'We care, and we want to look after your kids,' then we have to do that, mindfully, every day."
After working at universities in Florida, Texas and, most recently, the Washington, D.C. area, Hammat is excited to return to her roots in student affairs at USI, a University she considers just the right size. "To already feel like it's home is a big deal," she says.
Let's get to know this nature lover and talented home chef who would be quick to answer if a certain reality TV show came calling.
What will make you a successful dean of students?
Being a good advocate for our students, being visible, being engaged, being the person parents can call when they're concerned or feeling left out or feeling disconnected. Being a good partner on campus with other departments and colleagues.
And, I think being someone the president can rely on, that my boss can rely on. Part of my job is to make them look good, and so if they don't have to worry about the things that I'm tending to, then that's success. I think also making sure that we lift up the folks that report to us.
If you could give students one piece of advice, what would it be?
Don't worry about what other people think. I think that is hard from 9 or 10 [years old] until you're 40 because there's that time frame in your life when all you're doing is comparing you and your life and what you have or don't have, or what you can or can't do, to your best friend, to people at school … or whatever social network you have.
You can't love yourself if you don't feel like you're enough. If [students] would come in not caring what other people thought … I think you would see healthier students. I think you would see more engaged students.
How do you feel about social media?
I think when it's done well, and when it's done with integrity, it can be awesome. But I think it's part of the reason we see more suicide and more depression and more anxiety and more people who don't know how to cope. They see that best version-that Hollywood version-of people's lives, and they think that that's reality. We don't post our failures. We don't post our disappointments. We don't post our agony. And so, students don't think that that's part of it. They don't understand that you have to fail to succeed.
What do you enjoy doing in your free time?
I like hiking. The outdoors is majestic. [My partner, CJ, and I] did a tour several years ago of 12 national parks. I'll eventually get to international travel, but there are so many places in our country that are just breathtaking. 
I enjoy cooking. I'm a better baker than I am a cook, but I'm a very good sous chef. We make good food. I'd put our plant-based food up against anybody. That's part of my creative space. Baking is more stress relief for me because I can't be upset when I'm baking. You have to measure. You've got to be deliberate … you have to put all of the other chatter away. 
What are your favorite things to bake?
Banana bread is one of my all-time favorites. My banana bread is pretty competitive, I think. I like making cakes and cupcakes and cookies. I do like making some pies, but my mom's a better pie baker than I am.
If you could be on a reality show, would you? And, if so, which one would it be?
If it was supported by my boss, I would do Amazing Race because I think CJ and I would just laugh the whole time. She is hyper competitive. We have different skills. She is a mad skills driver, and I'm the navigator. I'd want to be on a reality show that has modern conveniences-not figure out where you're sleeping and be bitten by bugs and critters. I like hiking, but I don't like being attacked by nature.
That would be a chance of a lifetime for sure. I think if you got that opportunity, you kind of have to at least consider it. What a great way to see the country, the continent, the planet.
In the spirit of USI's role model marketing campaign who is one of your role models?
I can't answer that and not say at least part of that's my mom. She was a single mom after my parents divorced, and she was one of the very few female administrators at Murray State at the time.
There are so many women that I worked for in the field of higher ed. I have an obligation to them to pay that forward. All of these women were strong and fearless, and simultaneously vulnerable to show that you can be those things and not be weak.



Fun Facts about Dr. Jennifer Hammat
Dr. Hammat didn't become an RA while attending Murray State University because she knew RAs reported to Hall Directors who reported to… her mother (the Director of Housing and Special Assistant to the Vice President).
Before switching her major (several times) and pursuing her degree in organizational communications, Dr. Hammat wanted to study physical therapy.
Dr. Hammat's first car, a maroon early 1980s Dodge Omni named KiKi, broke down two weeks after she bought it.
To help stay in shape, Dr. Hammat has dabbled in Krav Maga and is currently enjoying CrossFit.
Dr. Hammat has been known to recommend her favorite hair products to strangers who ask about her curly locks… and to let them touch her hair.
One thing Dr. Hammat wants to get better at? "Not eating carbohydrates when I'm stressed."