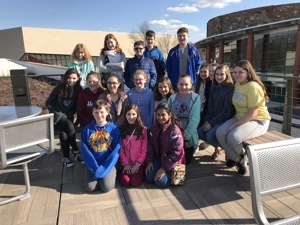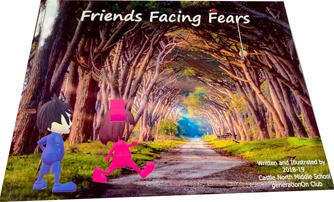 Snakes, storms, heights—we're all afraid of something. But we don't have to be. That's the message of Friends Facing Fears, a book of short stories created by Castle North Middle School students, with help from USI graduate students.   
Dr. Melanie Lee, associate professor of English, stumbled upon the potential partnership during a conversation with Dr. Oana Popescu-Sandu, associate professor of English and associate chair of the English Department, in the fall of 2017. Popescu-Sandu mentioned that her daughter, a student at Castle North, was part of an after-school service club writing, illustrating and publishing a book to benefit Dolly Parton's Imagination Library. "She said, 'You know, that might make a good project,'" recalls Lee, who was looking for an interactive, collaborative, community-focused assignment for her ENG 412 Professional Writing and Rhetoric capstone.
Before long, 21 members of the CNMS generationOn Club were visiting USI's campus and working with Lee's undergraduate students to polish their original limericks and place their hand drawn illustrations on the pages of the club's second book, Caring Makes the World Go 'Round. "I heard kids saying, 'I can't wait until I'm old enough to come out here and go to school here [at USI].' And that was really fun," says Lee. "What better project could we have to collaborate on? Not only does this encourage reading and literacy, it's themed. These themes [throughout the book] are very humanities-driven and very much like the kinds of things that you would find if you read great works of literature." 
When they weren't meeting with club members, Lee's students were writing a successful grant to help with publishing costs, crafting a formal, 25-page report about the experience and promoting an official book launch in Traditions Lounge. "All of these things are very high demand skills that employers really expect from graduates," Lee says. "Employers want graduates who can write."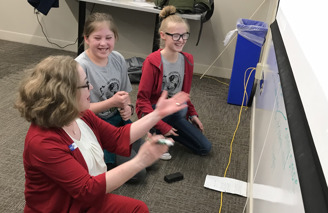 Lee and generationOn Club sponsors Darlene Short and Ginger Schaperjohn, both teachers at Castle North, decided to team up again during the spring 2019 semester, this time with students from Lee's Master of Arts in English (MAE) Public Digital Rhetorics class. USI students traveled to Castle North to assist club members with editing and revising their short stories (each addressing a common fear) and hosted the young authors and illustrators on campus, recording short interviews to incorporate into an interactive Friends Facing Fears website. "[It] gave students an opportunity to reflect on the reason for their part of the project and realize the value of their work," says Short. "[They] were so appreciative of the efforts made to help them be successful with the process of writing, illustrating and publishing."
But Short's students weren't the only ones to benefit. "It was inspiring to work with such energetic and motivated young people," says Lee. "Working the project for a real group made the links between theory and practice much more vivid," adds Dawn Paris, administrative assistant for the College of Liberal Arts and a member of Lee's MAE class. "Working with the layout and trying to make it compatible with different platforms is challenging, and we had to consider how visitors to the site might view or use it."
Visibility and accessibility are important because for the past two years, generationOn has donated its book sales to Dolly Parton's Imagination Library in Warrick County, a program that mails a book to 600 local children, ages 5 and under, each month for free. Caring Makes the World Go 'Round led to a $2,500 contribution, and Castle North students have raised $1,800 from Friends Facing Fears. GenerationOn Club members plan to continue promoting the book—and their mission to support childhood literacy—at the Historic Newburgh Farmers Market and fall craft shows, in hopes of selling their remaining 300 copies by the end of the year. "To me, this is the heart of what we do at the University of Southern Indiana, particularly in the English Department and the College of Liberal Arts," says Lee. "We are helping students and encouraging them to learn and to read and write."
How to buy Friends Facing Fears
https://inspirecnms.wixsite.com/generationon
Historic Newburgh Farmers Market
Saturday, September 7
8 a.m.-Noon
Boonville High School Craft Show
Sunday, November 3
Noon-4 p.m.
Books are $10