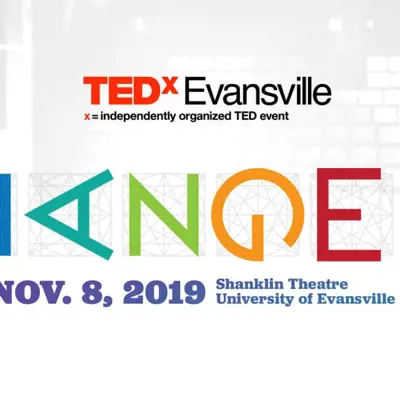 2019 TEDxEvansville event to feature USI adjunct instructor, alumnae
The 2019 TEDxEvansville event, themed around "Change," is being held at 6 p.m. Friday, November 8 at Shanklin Theatre located on the campus of the University of Evansville. Tickets are $35 for general admission and $10 for students, and can be purchased online at www.tedxevansville.com. The event consists of short presentations, averaging around 18 minutes in length, that are packed with thought-provoking, powerful messages by a curated selection of some of the community's best speakers. Among the lineup of speakers at this year's event are a USI adjunct instructor of communication and two USI alumnae:
Ashley Sides Johnson, adjunct in communications
Presentation: The elephant in your office has a mental illness
Speaker Bio: Following years of dance recitals, band concerts, and theater performances, Ashley feels at home on a stage. She's equally as comfortable behind a computer screen transforming complex topics into understandable stories and instructions. Her recently published book, There's an Elephant in Your Office, does just that by using a simple metaphor to explain the complexities of mental illness in the workplace. She also writes about parenting and mental health on her blog, ASJexplains. (www.ASJexplains.com, www.elephantinyouroffice.com, Facebook @ASJexplains, Instagram: elephantinyouroffice)
The majority of Ashley's professional life has taken place within the walls of regional hospitals. She speaks "healthcare" fluently and enjoys making medical topics less intimidating to patients and their families. Her work with the Community Health Needs Assessment ignited special interest in the fields of mental health and homelessness and fueled her desire to help create the Homeless Medical Respite Program at United Caring Services. As for participating in TEDxEvansville - can you think of a more natural outlet for a word nerd who loves a microphone?
Cindy Petrov Alfaro '13 
Presentation:Why Engaging Your Community in Your Struggle Story Can Change The World
Speaker Bio: Cindy Alfaro J.D, is a two-time graduate from the University of Southern Indiana, with Bachelors in English and History. She graduated from Indiana Law School Robert H. McKinney School of Law in May of 2018 and is the first Temporary Protected Status (TPS) in the history of an Indiana University law school to attend and graduate law school. Cindy is the Founder of Lawtina LLC, and socially conscious company with the purpose of empowering Latinx in higher education and the legal field. Lawtina LLC provides resources, shares #StruggleStories turned into empowerment stories, provides a Guest Writer Program platform, created the Latinx in the Law Video Series dedicated to law students and lawyers providing first-hand experiences to Latinx online, and more. Paired with the ability to empower students, Lawtina LLC also sells Empowerment Merchandise that is not often available to the Latinx community, and 10% of profits will be used to create and fund the Lawtina Foundation. "I want to be a part of TEDxEvansville because Evansville is my hometown, and the place that gave me so many opportunities to grow and develop as a professional. Key individuals in our community believed in me, and in turn I want to help my community with my talents and bring a breathe of fresh air to the place I call my home."
Josey Roth '15
Presentation: What if Businesses Treated Employees like People?
Speaker Bio: Josey is a local native, born and raised in Evansville, Ind. She received her undergraduate from the University of Southern Indiana in Writing and Rhetorical Studies and her masters in Critical Theory from The Johns Hopkins University. She has been in Non-Profit Management since graduating USI in 2015. She began independent freelance work in research, grant writing, strategic planning, and data reporting in 2018. Some of her past community involvement roles outside of the workplace include being a member of Rotaract, the Non-Profit Alliance, a board member for the Southwest Indiana Chamber of Commerce, and volunteering at the Ark Crisis Child Care Center's Fairytale Ball benefit. Her current community engagement includes serving as Chair for the Young Professionals Alliance of Evansville, Co-Chair for Young Leaders United of SW IN United Way, Co-Chair for the Regional Young Professionals Conference of SW IN, and a member of the Young Professionals Network. She most recently received the 2019 Evansville Young Professional of the Year award and is passionate about helping raise up the next generation of leaders within the community.
Josey's interest in TEDxEvansville sparked shortly after working on her graduate thesis that was developed around commonalities amongst corporations who consistently made the "Best Places to Work" list through Forbes and Glassdoor, Inc. She has continued this research and worked to take it a step further by challenging workplace culture practices and educating community leaders on various data surrounding workplace engagement. Josey believes that TEDx gives individuals a platform to educate, inspire, and motivate others from all backgrounds and walks of life to ignite change and positively impact those around them.