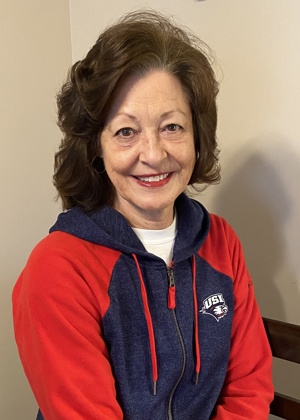 Even as her retirement drew near, Linda Trible, associate registrar emerita, never took her foot off the gas. "She wasn't coasting to the last day," says Sandy Frank, registrar. "She was working furiously to stave off June 30."
Trible's "unequaled" work ethic is one of the many reasons Enrollment Management honored her with its inaugural Legacy Award. The award recognizes an employee within the division who has established a legacy of accomplishments, service and professionalism throughout their career, both at USI and beyond.
"Linda's keen insight, thoughtful contemplation and ability to 'connect the dots' has greatly impacted the strength of courses, programs and the core curriculum in countless ways. Her attention to detail, logical thought process, common sense, practicality, fairness and staunch support for the best interests of students is unsurpassed," Frank told colleagues at the award ceremony in December. "She has the exceptional ability to see and comprehend the 'big picture' and the ability to untangle the most complex concepts and clearly articulate their impact."
During her more than 20 years of service to the University, Trible was not only a devoted employee, but a dedicated volunteer— serving as a judge for the EVSC's "We the People: The Citizen and the Constitution" competition, helping with the Pott College's Tri-State Science and Engineering Fair and preparing USI student-athletes for job interviews. To ease the stress of Commencement, she gave volunteers and marshals special purses to carry their essentials as they helped students and performed their duties. And before leaving her office for the final time, she left one last gift—for her successor, Angel Nelson.
"The first thing I saw upon entering the office was the note she left on her whiteboard: 'If you start to feel overwhelmed—take a deep breath and remember how awesome you are!'" Nelson says. "I have not been able to erase that message to this day. When I'm overwhelmed, I look at it and know that she is still cheering me on, wherever she may be."
It's not just Nelson Trible is rooting for though. Whether she's enjoying time at Lake Barkley with her husband, traveling to see her children or catching up on projects around the house, USI and the many friends she's made over the years are never far from her mind. "I've always considered the people at USI its most valuable resource. The amount of knowledge, dedication, and commitment to the institution's mission is amazing," she says. "Not seeing the faculty, staff and students every day has been the most difficult part of retirement."
(Trible's retirement began January 1, 2020, following a sabbatical from July 1 to December 31, 2019.)