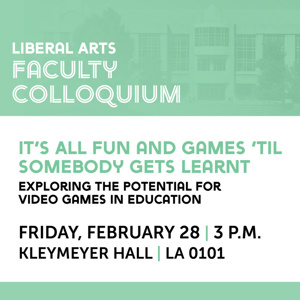 The University of Southern Indiana College of Liberal Arts will host "It's All Fun and Games 'til Somebody Gets Learnt: Exploring the Potential for Video Games in Education," a presentation by Dr. Crystal Steltenpohl, assistant professor of Psychology. The second presentation in the Liberal Arts Faculty Colloquium series will be held Friday, February 28, at 3 p.m. in Kleymeyer Hall, located in the lower level of the Liberal Arts Center.
The Entertainment Software Association estimates 60% of Americans play video games daily, and 64% of U.S. households own a device that they use to play video games, meaning most Americans have some familiarity with the medium. While video games are largely known for their entertainment value, educators have long explored using them as educational tools in the classroom, to varying levels of success.
Steltenpohl's multidisciplinary team is working to develop an open access video game to teach high school and undergraduate students about the research process, including experimental and quasi-experimental methodology, research ethics, and open science. Throughout the creation of the game, they hope to learn more about how people learn by evaluating learning outcomes along the way, in line with educational best practices in psychology and beyond.
Each fall and spring semester, USI faculty members from the College of Liberal Arts present individual, free, public lectures featuring their current research. To see the current lineup of speakers for this semester, visit USI.edu/liberal-arts/special-programs/liberal-arts-faculty-colloquia
For more information contact Dr. Urska Dobersek, assistant professor of psychology, at 812-464-1952 or udobersek@usi.edu.