Free Homecoming Week basketball tickets available for USI employees
Free Homecoming Week basketball tickets available for USI employees
2/7/2020 |
University Communications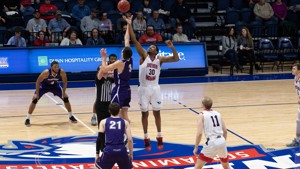 As the University prepares to celebrate Homecoming Week February 10 through 15, current USI employees can enjoy complimentary men's and women's basketball tickets. 
All employees may receive two free tickets to either the USI Women's and USI Men's Basketball doubleheader against Lindenwood University Thursday, February 13 or the doubleheader against the University of Missouri-St. Louis Saturday, February 15. Thursday game times are 5:30 p.m. (women) and 7:30 p.m. (men). Saturday game times are 1 p.m. (women) and 3:15 p.m. (men). 
Homecoming Court coronation will take place at halftime of the men's game Saturday.
Complimentary tickets must be picked up in PAC 202 during the times listed below; they will not be offered at Screaming Eagles Arena prior to the games.
Friday, February 7: 8:30 a.m. to 4 p.m. 
Monday, February 10: 8:30 a.m. to 4 p.m.
Tuesday, February 11: 8:30 a.m. to 4 p.m.
Wednesday, February 12: 8:30 a.m. to 4 p.m.
To access PAC 202, enter the main doors of Screaming Eagles Arena. Go to the second floor toward the PAC. PAC 202 is across the concourse from the Varsity Club Suite.