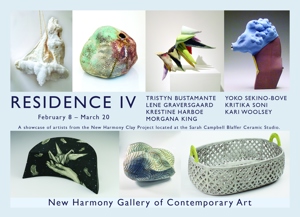 The New Harmony Gallery of Contemporary Art's latest exhibition, Residence IV will host an opening reception from 4 to 6 p.m. Saturday, February 8 with a chance to meet the artists. The reception is free and open to the public.
Residence IV is an annual exhibition that showcases the resident artists from the New Harmony Clay Project (NHCP) located at the Sarah Campbell Blaffer Ceramic Studio, in the lawn adjacent to Philip Johnson's Roofless Church. This year the exhibition is returning to the New Harmony Gallery of Contemporary Art through March 20, and features artists Tristyn Bustamante, Lene Graversgaard, Krestine Harboe, Morgana King, Yoko Sekino-Bove, Kritika Soni, and Kari Woolsey.
The NHCP residency program fosters an environment that supports the investigation of new ideas and work of ceramic artists. The program operates under the New Harmony Artist Guild, a non-profit 501(c)3, that serves as an incubator for nurturing the arts. NHCP is a rural residency program, supported by the Efroymson Family Fund, Greater Houston Community Foundation, Lenny and Anne Dowhie Trusts, and Robert Lee Blaffer Foundation. The goal is to encourage emerging and professional visual artists and educators in ceramics by giving them quiet space and the time to develop a new body of work.
Tristyn Bustamante's body of work is produced through a process of informed intuitive ideation, development of form, and conscious refinement. They are physical snapshots expressing the potential of an ambiguous yet expected event, which question purpose.
Lene Graversgaard's art is based on an urge to explore the shape of the language of nature. She draws inspiration from the wild powers, unique light, harsh environment, and greedy sea that characterizes northern Jutland in Denmark.
Krestine Harboe uses different ceramic materials in combination with everyday items and organic matter to create sculptural objects. Elements of storytelling and Nordic mythology characterize many of the individual works. 
Morgana King's work is often colorful and abstract though it is intrinsically tied to the foreground/background of landscape. Inspired by imminent collapse, delicate balance and fleeting moments, her work is comfortable teetering on the brink.
Yoko Sekino-Bove attempts to construct a bridge over the gap of translating one culture to another and uniting them by starting conversations about profound ideas we share even in different periods, languages and cultures.  Her goal in ceramics is to create functional art with an exciting personality, which will live and work with the people who adopt them.
Kritika Soni finds inspiration in the various experiences and emotions of growth, change, sadness, frustration, anxiety and excitement that we go through in the journey called life. Her background in Textile Design has inspired Soni to bring her love for textures and color to ceramics.
Kari Woolsey's work focuses around the "everydayness" of objects found in the home. The "everydayness" of these objects is expressed in installations that touch on the mundane tasks and daily rituals of life to ask the viewer to think deeper about how we are connected to the objects around us.
This activity made possible, in part, with support from the Indiana Arts Commission, The Arts Council of Southwestern Indiana, and the National Endowment for the Arts, a federal agency.
The New Harmony Gallery of Contemporary Art is an outreach partner of the University of Southern Indiana. The gallery is located at 506 Main Street in New Harmony, Indiana. Regular hours are 10 a.m. to 5 p.m. Tuesday through Saturday. For more information, call 812-682-3156 or go to usi.edu/nhgallery.