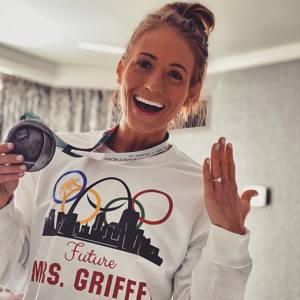 Julia Kohnen '14 M'15 not only earned a medal at last weekend's U.S. Olympic Marathon Trials, she also walked away with a diamond ring.
Despite a hamstring strain two-thirds of the way through the 26.2-mile race in Atlanta, Georgia, the former USI soccer player and four-time cross country and track and field All-American surpassed her expectations with a personal record of 2:30:43, placing 10th out of more than 400 competitors and finishing just over three minutes behind the winner. "My feeling after that race was just pure excitement," she says. "However, unknown to me, the excitement was only just beginning."
About 30 minutes after crossing the finish line, Kohnen was in for another shock when her boyfriend, Tyler Griffey, got down on one knee and proposed in front of family and friends. "I was so confused, happy and excited, all at the same time," Kohnen says. "It truly was a life-changing and unforgettable day."
Kohnen studied business administration at USI and earned her MBA. She is a field technology advocate for Panera Bread.