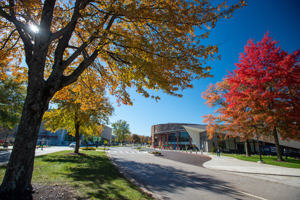 The University of Southern Indiana is offering prospective students and their families unique and interactive options to visit campus and engage with faculty and admissions staff in light of the ongoing COVID-19 pandemic.
Beginning Wednesday, June 10, USI will offer live-narrated, guided driving tours of its sprawling southern Indiana campus. Undergraduate Admissions staff members will lead the tours from an Admissions vehicle while narrating the tours in real time for up to five cars at a time. Families will have the ability to listen to the tour guide and ask questions via Zoom, while seeing and experiencing the USI campus from the safety of their vehicles.
"This is a very unique offering, and one we haven't seen replicated elsewhere in the country," said Rashad Smith, Executive Director of Enrollment. "Our highest priority is the safety and well-being of our campus community and our prospective students and their families. These driving tours are a great way to showcase our beautiful facilities and connect with visitors while maintaining social distancing and protecting those at risk."
The narrated driving tours will be offered at 10 a.m. Monday through Friday and on select Saturdays. More information about the tours, including availability and reservation forms, can be found on the USI Admissions website.
On-campus walking tours to resume
Beginning Monday, July 13, USI will resume on-campus walking tours. A number of safety measures have been put in place to ensure the safety and peace of mind of all participants. Some of the many precautions include health screenings, social distancing, signage, hand sanitizing stations and increased cleaning protocols. Size of groups will be limited and face coverings are highly encouraged.
"There really is nothing like seeing this campus in person," said Smith. "But we're putting the safety of our community and our visitors first. That always has to be our top priority."
For those who still may not feel safe taking a tour in person, USI will continue to offer its new driving tours and host virtual visits and tours, including a Virtual Open House this Saturday, June 6.
"These virtual events provide prospective students and their families an opportunity to experience the beauty of our campus and receive important information about the college decision-making process from the comfort of home," said Smith.
For more information about scheduling a visit to the University of Southern Indiana campus, virtually or in-person, visit USI.edu/schedule-a-visit.
With safety of all in mind, tours and dates are subject to state and federal guidelines related to COVID-19 and are subject to change.