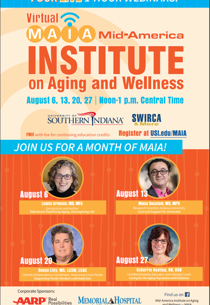 Dr. Louise Aronson, a leading geriatrician and professor of medicine at the University of California, San Francisco, will keynote the Mid-America Institute on Aging and Wellness during the first of four one-hour webinars to be held every Thursday in August at 12 p.m. Central Time. Webinar attendance is free, with a fee for professionals seeking Continuing Education Credit (CE).
This is the 13th year that the University of Southern Indiana and SWIRCA & More, Area Agency on Aging, have sponsored this conference to provide practical tools and ground-breaking information related to successful aging and wellness. Because of coronavirus health concerns, the decision was made to "go virtual" for the entire month of August with a different speaker each week: August 6, 13, 20 and 27, 2020.
Virtual MAIA Webinar Series:
August 6, 12 p.m. CDT: Louise Aronson, MD, MFA, is the author of the New York Times bestseller, Elderhood: Redefining Aging, Transforming Medicine, and Reimagining Life, which was named a 2020 Pulitzer Prize Finalist. Her webinar presentation will explore how the way we talk about old age contributes to the challenges of growing old in America, and she will identify opportunities to use aging and gerontology to improve society and health for everyone.
August 13, 12 p.m. CDT: Malaz Boustani, MD, MPH, is a geriatrician, neuroscientist, implementation scientist and author of Agile Implementation: A Model for Implementing Evidence-Based Healthcare Solutions into Real-World Practice to Achieve Sustainable Change. His work has been featured in Modern Healthcare, The Wall Street Journal, New York Times and numerous other national publications. Join him during this webinar on how to care for and support people living with dementia, increase engagement, improve quality and safety, and drive innovation during this time of COVID-19. Together, we can unite around a shared vision of better healthcare for all, right now. 
August 20, 12 p.m. CDT: Donna Lilly, MS, LCSW, LCAC, a chemical dependency coordinator at Deaconess Cross Pointe, will lead a workshop on commonly abused substances, the toll on individuals and families and available resources. At least one in four families are profoundly affected by a member who is abusing drugs or alcohol. Donna Lilly has over 25 years of experience in treating individuals and families with substance use disorders and related conditions.
August 27, 12 p.m. CDT: Scherrie Keating is a nurse and founder of Diabetes Kare Consulting, LLC. According to the American Diabetes Association, approximately 25% of people over the age of 65 have diabetes, and that number is expected to increase significantly in the coming decades. Her webinar will focus on the integral role health professionals and caregivers play in helping older adults living with diabetes achieve individualized treatment goals, reduce risks of complications, emergency room visits and hospitalizations, and improve longevity and quality of life.
Register for the free webinar series online at USI.edu/maia or call 812-461-5217.