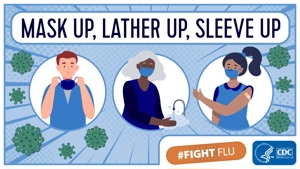 The University Health Center (UHC) is once again providing flu shots for USI students and employees.
"While it is important for everyone 6 months of age and older to get a flu shot every year, amidst the COVID-19 pandemic, it is even more important," said Julie St. Clair, Clinical Assistant Professor of Nursing and co-leader of the University's COVID-19 Safety Team. "Flu and COVID-19 will be circulating at the same time, and both respiratory infections can cause severe illness and hospitalization—even death."
All students and employees who wish to receive a flu shot on campus are asked to schedule an appointment online. Appointments can also be made by calling the UHC at 812-465-1250, though online scheduling is preferred.
Employees covered by any USI Anthem medical plan may receive a flu shot at no cost and should bring their University ID and Anthem medical card to their appointment.
"I am heeding strong medical advice and will be getting a flu shot," said Ronald S. Rochon, USI President, "I encourage all students and employees to protect themselves and our community by getting their shot too."
According to an estimate from the Centers for Disease Control and Prevention (CDC), fewer than half of Americans received a flu shot last season.
"We know that the flu vaccine can effectively prevent influenza infection or greatly diminish the severity of the infection," added St. Clair, who advises that it takes about two weeks to develop immunity after receiving a flu vaccination. "High levels of coverage with flu vaccine in our community can lessen the impact on individuals and on our healthcare system." 
In previous years, flu shots were available during the University's annual Wellness Fair. This year's fair, originally scheduled for Wednesday, September 30, will not take place due to COVID-19. However, in addition to pre-scheduled appointments, flu shots will be provided on a walk-in basis from 1 to 4 p.m. Thursday, September 17 and Thursday, September 24 at the University Health Center. Additional dates are planned and will be announced when details are finalized. Physical distancing is required.
Please call the UHC before entering if you:
Are experiencing flu or COVID-19 symptoms
Are awaiting COVID-19 results
Have been in close contact (within 6 feet for 15 minutes or longer) of someone who has tested positive for COVID-19 or is in quarantine or isolation due to suspected COVID-19 exposure
Additional Resources

CDC flu information

Prevent seasonal flu

Diagnosing flu

Flu treatment