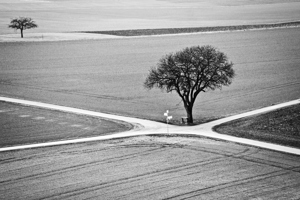 Historic New Harmony adds two Indiana authors from the Indiana Humanities INSeparable Speakers Bureau to participate in the virtual speaker series, Crossroads: Change in Rural America.
The program was originally affiliated with the hosting of the Smithsonian exhibit, Crossroads: Change in Rural America that was canceled due to COVID-19, in May.
"Although we are no longer hosting the Smithsonian exhibit Crossroads: Change in Rural America, the topics covered in the speaker series, by our very own USI faculty and staff, are just as relevant as we continue to find our place in this new socially distant world," said Claire Eagle, Community Engagement Manager of Historic New Harmony. "Moving it to a virtual format just made sense. This is the perfect opportunity to enjoy your dinner or a drink at home while engaging with members of your community."
Dr. Terri Jett and Kevin McKelvey will join the list of six USI faculty, staff and students presenting virtually through Zoom in a series sponsored by Hafer.
Speakers added include:
Dr. Terri Jett, Associate Professor of political science and Special Assistant to the Provost for Diversity and Inclusivity at Butler University, will present "Food Connects Us All" on Thursday, October 8 at 6:30 p.m. via Zoom. Everyone needs to eat, and where and how food is grown complicates the idea that there is a sharp line between urban and rural. Many urban and suburban dwellers enjoy farm-to-table restaurants, shop at farmers markets or subscribe to community-supported agriculture programs that deliver fresh, healthy food, including fruits and vegetables picked at their peak. Such programs give a face to farmers and literally connect urban eaters to rural growers. However, in recent years, urban communities have planted gardens inside city lines, confounding the image we might have that farms are rural and cities are concrete jungles. All of this work is set against the backdrop of a food justice movement that works to eradicate food deserts and food insecurity and increase access to healthy food in rural, suburban and urban areas. Jett will examine how these changes in food production and distribution can redefine and expand people's ideas about "community" across urban-suburban-rural lines.
Kevin McKelvey, Indiana author, Associate Professor of English and Director of the Masters in Social Practice of Art Program at the University of Indianapolis, will present "Arts, Community & Place: A Collaborative Workshop" on Thursday, November 19 at 6:30 p.m. via Zoom. Two hundred years of art and literature in Indiana, from T.C. Steele to George Ade, Gene Stratton-Porter to Robert Indiana, Mari Evans to John Green and Adrian Matejka, serve as a jumping-off point for McKelvey's discussion of Indiana's rural townships, towns, suburbs and cities. Place is central to our identity and culture in Indiana, and this discussion will evolve into a collaborative workshop to identify historical or cultural assets in your area and brainstorm ways to use contemporary arts, literature and humanities to directly engage and strengthen local communities. Attendees will leave with ideas and plans for socially engaged art, cultural programs, community engagement and placemaking and place keeping. 
About Historic New Harmony
Historic New Harmony is a unified program of the University of Southern Indiana and the Indiana State Museum and Historic Sites. By preserving its utopian legacy, Historic New Harmony inspires innovation and progressive thought through its programs and collections. Learn more at USI.edu/hnh.
About Indiana Humanities
Indiana Humanities connects people, opens minds and enriches lives by creating and facilitating programs that encourage Hoosiers to think, read and talk. Learn more at indianahumanities.org.
About Museum on Main Street
Museum on Main Street is a unique collaboration between the Smithsonian Institution Traveling Exhibition Service (SITES), state humanities councils across the nation and local host institutions. To learn more about Crossroads and other Museum on Main Street exhibitions, visit https://museumonmainstreet.org.
For more information visit USI.edu/crossroadsspeakers
For more information about Historic New Harmony, contact Erin McCracken Merris, Marketing Specialist for USI Outreach and Engagement, at emccracken@usi.edu.