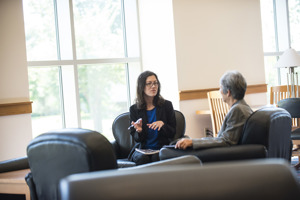 The University of Southern Indiana has been awarded a grant from Lilly Endowment Inc. totaling just under $2.5 million. Through phase 2 of its Charting the Future for Indiana's Colleges and Universities initiative, Lilly Endowment has made more than $62 million in grants to colleges and universities across the state for project implementation.
The grants to all 38 accredited colleges and universities range from $1 million to $5 million and are based on the size of student enrollment at each school. Funds will support a wide array of efforts—from building new partnerships among colleges and universities and improving recruitment and retention of students, to strengthening local community engagement and better serving first-generation, African American and Latino college students.
USI was awarded funding for a project that will create an innovative infrastructure for adult learners to obtain additional education credentials. Through a cohesive approach, USI and its collaborators will address the needs of employers seeking talented employees with skills that transition to a future workforce environment. Funds are expected to be released in October.
"This initiative addresses the current challenge of shifting demographics and provides USI with an opportunity to focus on the needs of adult learners while simultaneously meeting the needs of employers throughout the state," said Dr. Ronald S. Rochon, USI President. "We are honored to receive these funds and to get started on this important work. This initiative is a natural fit for USI's long commitment to community engagement and growth."
As part of the project, USI will establish a Center for Adult Learners Success to provide support and guidance in terms of student financial assistance, admissions, registration, advising and IT support. The new center will work toward three strategic goals: to identify, to enroll and to graduate adult learners. Strategies will include creating multiple pathways that allow adult learners to achieve educational goals; identifying multiple access points to efficiently complete educational credentials; and creating effective communication to market to adult learners. The end goal is to establish a center that meets the needs of the state and develops skills in a way that prepares individuals to tackle changing workforce needs.
USI will collaborate with Talent 2025 and Ascend Indiana on the initiative, which will be implemented over two years. Talent 2025 is made up of more than 40 members representing higher education and industry and will provide critical insight to employer and adult learner needs as the University moves forward with implementation. Ascend Indiana, an organization that connects employers with talent, will assist the University and other partners in building an effective pipeline to address areas with the most need.
"These are challenging times for colleges and universities, made more so because of the COVID-19 pandemic," said Ted Maple, Lilly Endowment Vice President for Education. "Higher education leaders recognize that they have to adapt to the changing demographics of undergraduate students, the importance of technology in education and the ever-growing need for students to be career-ready upon graduation."
Lilly Endowment launched Charting the Future in late 2019, making available more than $108 million.
With the initiative, the Endowment invited all of Indiana's 38 accredited public and private colleges and universities to consider what it would take to improve efforts to educate students and prepare them for successful futures while thoughtfully examining the long-term financial sustainability of their institutions.
The three-phase initiative began with planning grants to all participating schools, which provided funds to help convene stakeholders, consult with experts, do research, prioritize challenges and come up with proposed plans to address them. In the second phase, colleges and universities were invited to apply for the implementation grants.
Selected institutions will have the opportunity to apply for a third competitive phase of Charting the Future including grants totaling up to $40 million that will fund "transformative ideas to address extraordinarily compelling challenges or opportunities that require funding beyond the implementation grants." In this phase, collaboration with other higher education institutions and organizations will be key in creating large-scale impact for USI and for the state. Lilly Endowment expects to award these grants in 2021.
About Lilly Endowment Inc.
Lilly Endowment Inc. is an Indianapolis-based private philanthropic foundation created in 1937 by J.K. Lilly, Sr. and his sons Eli and J.K. Jr. through gifts of stock in their pharmaceutical business, Eli Lilly and Company. Although the gifts of stock remain a financial bedrock of the Endowment, it is a separate entity from the company, with a distinct governing board, staff and location. In keeping with the founders' wishes, the Endowment supports the causes of community development, education and religion. The Endowment funds significant programs throughout the United States, especially in the field of religion. However, it maintains a special commitment to its founders' hometown, Indianapolis, and home state, Indiana.