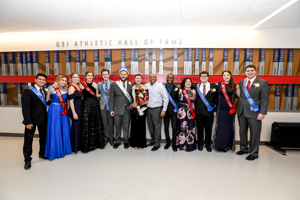 For the first time, students chosen to represent the University as members of the 2021 USI Homecoming Court will not be voted "King" or "Queen." Student Development Programs, with support from Student Affairs and the Student Government Association (SGA), will now oversee the election of Homecoming "Majesties." The language change was made to reflect the University's mission of gender inclusivity.
"We talked to different [student] groups. We talked to Activities Programing Board, we talked to SGA, and SGA included a resolution of support during their first meeting [of the semester]," said Nathan Payne, Program Coordinator with Student Development Programs.
The SGA resolution, unanimously approved in August, states in part, "Student Government Association believes that students should have the opportunity to be honored as Homecoming royalty without being given a title that does not match their gender identity. Students should not be discriminated against or excluded in any way on the basis of their gender identity."
"This is a positive change that embodies the ideals of inclusivity that make USI the amazing place that it is," said Dr. Khalilah Doss, Vice President for Student Affairs. "We will continue in our commitment to build and support an inclusive environment on campus. This change will allow us to identify the best students to represent Homecoming Court, regardless of their gender expression, gender or gender identity."
"I am so proud of our students for seeing this as an issue and deciding to make our Homecoming more inclusive for all students," added Dr. Jennifer Hammat, Dean of Students. "I am confident our Homecoming Court nominations will be more robust than ever."
Nominations for the 2021 Homecoming Court will be accepted until 11:59 p.m. Sunday, September 27. Homecoming Week is scheduled for February 8 through February 13, 2021, with the coronation ceremony Saturday, February 13.
Students must be nominated by a USI faculty or staff member or a student organization. Court selection is based on community and campus involvement, academic excellence and overall pride for USI.
Nominee requirements
Nominees must have completed 48 credit hours at the time of nomination
Nominees must have a cumulative grade point average of 2.6 or higher at the time of nomination
Nominees should demonstrate outstanding leadership skills through campus and community involvement
Student organizations may nominate two candidates to serve on Homecoming Court, regardless of gender identification
Students who have previously served on Homecoming Court are ineligible for this year's court
Twelve students will be named to Homecoming Court. Selection of the University's two Homecoming Majesties will take place during Homecoming Week and will be decided through a combination of student vote, interviews and Homecoming Week participation.
Please contact Nathan Payne, Program Coordinator, at 812-465-7167 with any questions.