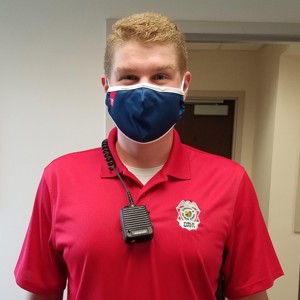 Though he doesn't expect to earn his undergraduate degree for a few more years, Thomas Tubbs '23, mechanical engineering, is already a certified EMT—and USI Public Safety's first EMT student worker.
Tubbs completed his EMT certification over the summer after joining the Ohio Valley Search and Rescue team, a nonprofit organization based in Evansville whose volunteer members search for and rescue people who are missing or lost. "[It provides] the ability to help others in need," Tubbs said.
Serving as an EMT student worker enables Tubbs to extend that support to those on campus. "I have no doubt that he's going to assist someone in a medical fashion that's either going to save their life or make their day a better one, and that's what we're looking for here, to assist the campus community," said Steve Bequette, Director of USI Public Safety.
In addition to administrative tasks, Tubbs expects to assist the Public Safety team on medical runs and help them perform their other duties.
His position, which was created at the suggestion of Jon Hancock, Public Safety Sergeant, "offers a great clinical experience of continuing his experience, rather than sitting on these skills while going through school," Bequette said. "He is working with very skilled EMT workers here."
Bequette is looking forward to watching Tubbs grow in the position and hopes other EMT student workers will follow. "That's a big thing, when you see your peers working hard and assisting in a positive way, so we hope to continue this," said Bequette. "He's going to set the bar of what we're looking for here, and I think he'll do a fine job."
This story was written by Mike Durchholz '21, communication studies, a student worker for University Communications. Know a student who deserves some recognition? Email University.Communications@usi.edu.