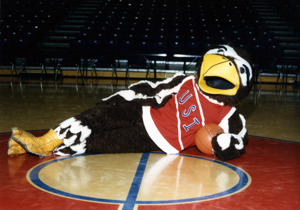 While his feathers have changed many times since his humble beginnings in 1970, Archibald T. Eagle's mission has not. For 50 years, Archie has represented the University of Southern Indiana, and before it, Indiana State University Evansville, at countless athletic, University and community events. And, like all good mascots, he's got some stories to tell.
Here's how University archives and those closest to Archie remember them:
How it all began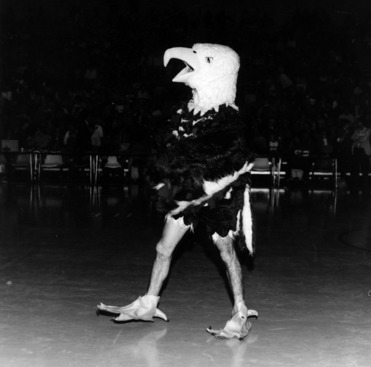 When Indiana State University Evansville was founded in 1965, it was the Spartans, not the Screaming Eagles, who competed on the University's first varsity athletic team. Roughly five years later, students helped the University transition to a new mascot.
"Red, white and blue were chosen for the University [colors] with the patriotic feeling of support for the Vietnam veterans leading the way and the unique location of USI on the Mid-America University Center," Ray Simmons, Director of Athletic Communications, wrote in an article commemorating the University's 40th anniversary in 2005. "The natural choice for the mascot was the national bird, the bald eagle."
The early days 
Barry Schonberger, USI's longtime Dean of Students, arrived at the University as the Student Activities Director in 1974; for several decades his office managed mascot responsibilities. "In the early years of the University, in many cases we just kind of made do with what was available to us, and we didn't have a lot of money to invest in a state-of-the-art mascot outfit." A 1977 article in The Shield referenced a new Screaming Eagle mascot uniform that cost $500. Schonberger recalls donations from the West Side Nut Club helping not only fund mascot upgrades, but also cheer and dance uniforms and pep band equipment.
In the very early days, the then unnamed eagle mascot fired up fans with his legs on full display. "Nobody liked wearing the yellow tights for that costume," recalled Schonberger, "so that's why you see the hairy legs."
And not everyone loved the eagle's fiercely curved beak. "The eagle of those periods scared the heck out of kids," said Schonberger. "In the late 70s, this is a period when a lot of the professional athletic teams had more comical mascots, so the decision was made—let's try and soften up Archie to be more along the lines of a comical character that kids would react to and enjoy."
Becoming "Archie"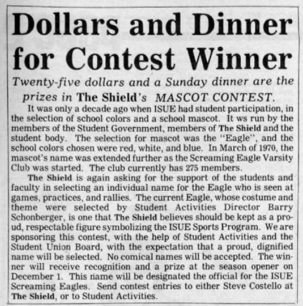 In 1979, several student groups co-sponsored a contest to name the University's beloved mascot. In November of that year, The Shield advertised a prize of $25 and a "Sunday dinner" to the contest's winner—"with the expectation that a proud, dignified name" would be selected.
"I would have to say that Archibald [T.] Eagle was by far the more popular of those that were submitted," said Schonberger.
The wild side 
Mascot life can, at times, get a little wild. In February 1987, an unidentified student taking on the role of Archie at an away game described to The Shield his decision to join the opposing team's cheerleaders during halftime.  
"I went out there and was acting up. I didn't do anything bad …. Their mascot obviously didn't [like it]. He came and shoved me from behind—hard. I fell on the floor and hurt my back pretty bad. After that, he kept pulling on my costume all night," Archie said.
While playing rival Kentucky Wesleyan on the road, Schonberger found himself stepping in to prevent Archie from being carted off the court by security. While KWC players were shooting free throws, Schonberger recalled Archie attempting to distract them by standing behind the basket and waving his arms. "One of the security guards took offense at that and told him [Archie] that he could not do that," said Schonberger. "Well, he [Archie] took offense at the security guard telling him he couldn't do that. Let's just say I had to go over and kind of soften things up a little bit so that he wasn't hauled off."
Grand gesture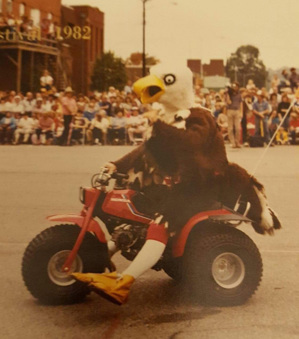 Deb Stratton '85 recalls a particularly sweet moment with Archie, portrayed by her then-boyfriend, Darrell "Glenn" Fritz Mathews '89. Between sorority events during Pledge Week, there was a knock on the door. "He was in the [Archie] costume … and he came in and his knees were bleeding," Stratton said. "He was carrying a dozen roses and brought them into me."
Why the bloody knees? "He was running with the cross country [team] and he fell [while wearing the bird feet]."
Stratton also remembers Archie dancing to Elvis Presley's "Jailhouse Rock" at a basketball game, hopping off a three-wheeler to "Do the Funky Chicken" in front of the judges' stand at the West Side Nut Club Fall Festival (photo above) and giving the officials a hard time if they made a questionable call.
"He'd pull out these huge glasses and put them on the end of that beak," she said. "He'd look at them and he'd cock his head one way and the other and then he'd take the glasses off and hand them to them." 
Embarrassing moments 
Mascots are not immune to embarrassment. In the mid-2000s, Archie once ended up in the wrong locker room. "I was putting on my costume until I realized that I was in the visiting team's locker room, and they all walked in and my jaw just dropped—and they all seemed as shocked as I was," the student told The Shield.
Former Archie Kourtney Barrett '06 told The Shield about an interesting appearance at a community event. "I heard a little kid scream out 'bird,' and then he jumped on me while pounding on my chest and screaming 'chicken' and I couldn't get up and I was rolling on the ground like a fish," Barrett was quoted.
Lessons from "mascot camp"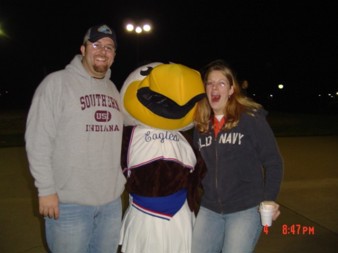 When Barrett agreed to take on the role of Archie in the mid-2000s at the request of Schonberger, she thought he was joking when he asked her to attend "mascot camp." He wasn't.
At the camp, held in Louisville, Kentucky, she and a fellow Archie "had to wear our mascot shoes everywhere we went, exaggerating the steps" while learning to always remain in character, never speak while in uniform and remember that mascots are the heart of the university.
They also learned a dance, which they performed at halftime of a USI game. "We used both Archie costumes and then I put a cheerleader uniform on mine and called myself Archiette," says Barrett. "We were quite a hit. The crowd was roaring and applauding."
Professor by day, mascot by night (and weekends)
While Archie's feathers have almost always been filled by a student, from 1996 to 2001, Greg Valentine, then Associate Professor of Business Education, took on the role of mascot. "[I was] probably the oldest and the shortest," he joked.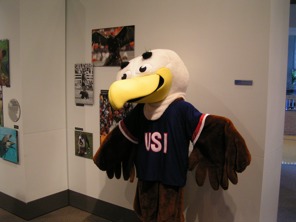 When he learned Archie wasn't at USI Women's Basketball games, he took matters into his own hands and decided since he already attended, he would wear the costume and have some fun. "Your persona changes quite drastically, and especially since nobody really knew it was me, my persona changed and I did a 180," he said. "I would chase [students] around the PAC or sit next to them … mess up their hair, eat their popcorn."
One year the Varsity Club created a boat-themed float for the West Side Nut Club Fall Festival Parade and Valentine, as Archie, was towed behind it down West Franklin Street—on rollerblades. "The only thing I had to watch out for were the railroad tracks," he said.
He enjoyed appearances at many other events—including the Mascot Trot at Ellis Park in Henderson, Kentucky, and USI's Midnight Madness. "I remember the guys [on the Men's Basketball team] coming up and grabbing me and having me dunk the basketball and hanging on the rim," he said.
On display
In the summer of 2005, Archie's costume was displayed in the NCAA Hall of Champions in Indianapolis, Indiana, as part of the exhibit, "Mascot Mania: Our Fascination with Collegiate Traditions." At the time, more than 40 NCAA schools had an eagle as their mascot.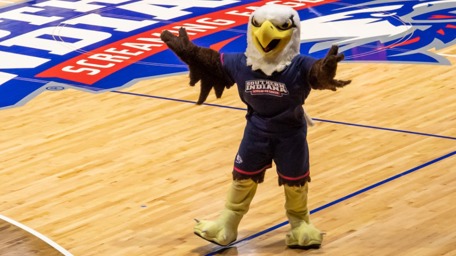 Archie today 
Since his creation, Archie has undergone at least eight transformations, with the most recent taking place in 2014. After various focus groups with USI stakeholders, the decision was made for Archie's newest look to represent strength, competitiveness and toughness—characteristics of USI's athletic teams. Close to 5,000 people voted on his latest makeover.