Drive-thru and walk-up flu shot clinics planned October 28
Drive-thru and walk-up flu shot clinics planned October 28
10/23/2020 |
University Communications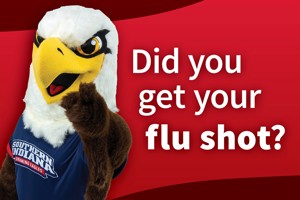 USI students and employees who have not yet received a flu shot may do so on campus, without an appointment, Wednesday, October 28. 
A drive-thru clinic will operate in the circle drive in front of the Orr Center from 8:30 a.m. to 4:30 p.m. and a walk-in clinic will operate in the Orr Center lobby during the same time period. Students and employees should wear a face covering while attending either clinic. 
Additionally, flu shots are offered by appointment in the University Health Center each week. Appointments can be made by calling the UHC at 812-465-1250, though online scheduling is preferred.
Employees covered by any USI Anthem medical plan may receive a flu shot at no cost and should bring their Anthem medical card to their appointment or to the drive-thru and walk-up clinics.
Additional Resources

CDC flu information

Prevent seasonal flu

Diagnosing flu

Flu treatment