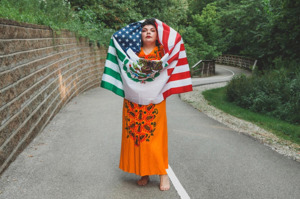 On October 1 the Multicultural Center hosted a Latinx Heritage Month presentation featuring filmmaker Adriana Bosch. Before the discussion, Kassandra Santos '21, communication studies, performed her poem "Porque Siendo Chicana."
"I am a Chicana," Santos says, "a term that is commonly used to identify a womxn born in the United States with Mexican heritage." (Santos purposefully uses the word "womxn," considered a more inclusive form of "woman.")
"'Porque Siendo Chicana' explains the struggle I share commonly with children of immigrant families. I don't just get to be Chicana during this month [celebrated September 15 through October 15], I am Chicana all year long," said Santos. "It tells a story of how I embrace my roots and provides recognition of the struggles my community has had and continues to have."
For Santos, being part of two different worlds is a struggle. "As a result, you make your own little world," she says. "In my world, you are allowed to enjoy authentic tacos, drink a caramel frappe and jam out to regional music or R&B."
"We [Latinos] are not defined by terms, we are not defined by one sole act and we refuse to be confined as one sole identity knowing we have an extremely broad representation of identities," says Santos. "'Porque Siendo Chicana' means I refuse to let someone define who I get to be or [what I get to] do."
Porque Siendo Chicana
By Kassandra Santos '21
Hispanic Heritage Month is a time of celebration, 
but in reality it's a time of education 
We educate our communities on why the culture is significant,
we paint them our efforts and say we are magnificent 
Porque siendo Latinx is more than just the bright colors y delicious food,
it has a deeper meaning, beyond more than how we are viewed
Porque la cultura no es algo de solo un mes, 
es algo más grande de lo que tu vez 
La cultura does not consist of rapists, murderers, and drug dealers,
it consists of doctors, teachers, lawyers, and engineers
La cultura traces back to different parts of the globe,
we carry our stories as seen through wardrobe
La cultura consists of people who are discriminated on a daily,
we are blamed for so much yet we are the help mainly
La cultura consists of beautiful people,
don't listen to the media, they say we are evil
My skin may be white in the winter and kissed in the summer,
that's because Latinos come in all different colors
Latinos don't have a definite shape or size,
the media says we do but I call it all a lie
We speak Spanish but our terms are different,
podríamos discutir, pero juntos somos efficient
Being Latino means you come from people who have suffered,
we've been lied to always which is why we are flustered
But this is why I continue to learn about my heritage,
learning helps me support my friends and family and that's imperative
Which is why I continue to learn because it's unique to me,
porque siendo Chicana is more than you see
During this time I reflect on my identity,
asking myself the woman I wanna be
I used to wake up every day asking myself do I get to be paisa or gringa, 
Pero hoy I wake up knowing I am a Chicana, y eso viene con una vida linda
It's knowing I come from two different worlds that come in one,
regardless of the rejection, I know I am not done
Porque being Chicana means que no soy de aquí pero tampoco de aya, 
both countries remind me of that struggle eso nunca faya 
My roots are from Guanajuato y Michoacan,
fui nacida aquí pero no me olvido de aya
I stand in this country because of an "American Dream",
remembering on a daily that it is not what it seems
My parents thought they would see a white picket fence, 
only to end up in a struggle it doesn't make sense
They were painted a picture with rainbows and wealth,
they were promised a good life with incredible health
Pero es toda una mentira porque la lucha sigue,
mi padres en pobreza y sufriendo que alguien me lo explique
Porque siendo Chicana means advocating for my parents, 
viene todo con precio y todo por falta de papeles 
Porque siendo Chicana means pulling an entire familia to give them a future, 
y aunque me mate el esfuerzo ellos sirven como mi suture
Porque siendo Chicana means rebelling against my traditions,
doing anything and everything regardless of conditions
Porque siendo Chicana means using my voice,
using it daily to give people a choice
Porque siendo Chicana means speaking for the silent,
knowing I annoy racists because I won't stay quiet
Porque siendo Chicana means I challenge the impossible,
It's a mandated thing for me never just optional
Porque siendo Chicana means I continue to hustle,
so my immigrant parents have less of a struggle
Porque siendo Chicana means learning how to question the status quo, 
porque a mi no me cuadra cuando me dicen que "no"
Porque Siendo Chicana means I challenge mis ancestros, 
porque dicen que no puedo, son mis meros testers 
Porque siendo Chicana means I do more than the stereotype,
it's why I am positive and continue to self-hype
Porque Siendo Chicana significa que I have rules to break, 
recordándome que ganó más than what's at stake 
Porque being Chicana means representing a merge in national histories, 
aunque exsista la frontera, I stay writing my history 
Porque siendo Chicana means I can listen to los Huracanes del Norte on cleaning days, 
and when I study I will listen to Russ or Drake I don't care what people say 
Porque siendo Chicana means I can enjoy sopes, tamales, y tacos,
but I stay drinking my frappes you know how that goes
Porque siendo Chicana means I will see half of this country being hispanic in 2050,
bet you didn't think about that huh it's kind of nifty
Porque siendo Chicana is more than just these words,
it's a lifestyle too let's put that in the records
Porque siendo Chicana means I celebrate today and tomorrow,
it's something I pray one day my kids learn to follow
Hoy y mañana es para toda mi comunidad Latina, 
embrace yourself porque tienen sangre fina 
My name is Kassandra [khah-sahn-drah] not Kassandra [kuh-san-drah],
soy Chicana [chee-kah-nah] not Chicana [chee-kan-ah]
Soy orgullosamente producto de inmigrantes, 
y lo seré hasta el día de mi muerte
Lo que cuento hoy es solo algo superficial, 
porque siendo Latino va hasta el mas aya…