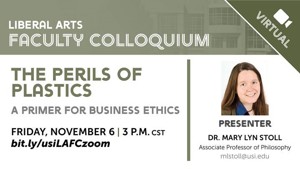 The University of Southern Indiana College of Liberal Arts will host its third virtual Faculty Colloquium presentation, "The Perils of Plastics: A Primer for Business Ethics," by Dr. Mary Lyn Stoll, Associate Professor of Philosophy, at 3 p.m. CST Friday, November 6. The public can attend by going to USI.edu/lafc to register.
According to National Geographic, thirty-two nations have instituted bans on single use plastic bags, yet, at current rates, the world's oceans may well have more plastic than fish in them by 2050 (Parker, 2019a). Additionally, plastic pollution rates have increased even more in the midst of the pandemic. Present levels of plastics dumping into global ecosystems are clearly unsustainable (Borelle et al., 2017).
To make matters worse, the global plastics industry is growing at a rapid pace, and so too the pollution that it generates. Half of all plastics ever produced were created in the past 15 years, and production is expected to grow as the oil industry shifts from providing for automobiles to focusing more on plastic (Parker, 2019b). All too often, single use plastic is used in rich nations and then dumped as refuse in poor ones.
Stoll will examine how companies can take more proactive and systematic steps towards minimizing their role in the creation of plastic pollution. By taking comprehensive measures to address plastic as an environmental harm negatively impacting a wide range of stakeholders who could not in principle consent to the harms accrued, companies can begin to remedy and reform morally unjustified practices. As with any attempt to become more morally accountable in business practice, special care must be taken to avoid greenwash as well as measures that may be morally better in one way, but substantially morally worse in another.
Stoll's presentation is part of the Fall 2020 Liberal Arts Faculty Colloquium. Each fall and spring semester, USI faculty members from the College of Liberal Arts present individual, free public lectures featuring their current research. To see the current lineup of speakers for this semester, visit USI.edu/lafc.
These virtual colloquia will be live streamed to the USI College of Liberal Arts Facebook page and recorded. For more information contact Dr. Urska Dobersek, Assistant Professor of Psychology, at 812-464-1952 or udobersek@usi.edu.
---
Borrelle, S. B., Rochman, C. M., Liboiron, M., Bond, A. L., Lusher, A., Bradshaw, H., & Provencher, J. F. (2017, September 19). Opinion: Why we need an international agreement on marine plastic pollution. PNAS. https://doi.org/10.1073/pnas.1714450114.
Parker, L. (2019a, April 4). New York State to ban plastic bags-here's why. https://www.nationalgeographic.com/environment/2019/03/new-york-state-plastic-bag-ban-explained/.
Parker, L. (2019, March 26). The world agrees there's a plastic waste crisis-can it agree on a solution? National Geographic. https://www.nationalgeographic.com/environment/2019/03/un-environment-plastic-pollution-negotiations/.