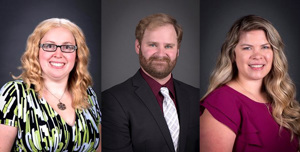 Get to know the faculty members who joined Pott College in Fall 2020.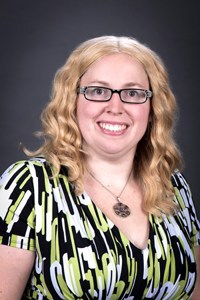 Dr. Nicole Becklinger
Assistant Professor of Engineering
Would you share a little bit about your background?
I grew up on a beef farm in Northern Illinois. I earned my bachelor's degree in mechanical engineering, as well as my master's and doctorate in industrial engineering, all from the University of Iowa. For my doctorate I also worked with the College of Public Health in their Ergonomics and Agricultural Safety and Health departments. I graduated in May 2020 during the pandemic.
What is your focus/area of interest and how did you become interested in it?
My focus generally speaking is using a systems approach to improving safety and health. I've done aviation and driving safety research, but my primary focus now is agricultural injury prevention.
I started out living and working on the family farm and gradually circled back to agriculture over my student research career. Having a background in farming as well as safety and health is a fairly uncommon combination and it helps me address agricultural safety issues in ways that someone without a farm background might not think of.
Describe your teaching style. 
I like students to work hands-on as much as possible and apply the theories that they're learning. I also try to give students as much scope for creativity and pursuing their own interests as possible, especially during class projects.
I'm also very practical in that I try to teach the material as simply as I can. If the goal is for students to understand concepts, it seems counterproductive to me to intentionally make things more difficult than they need to be.
What do you like to do in your free time? 
I like building and making things in general and have a lot of hobbies related to that. This includes everything from slowly learning how to repair mechanical clocks and watches to starting with a fleece, making it into yarn then making it into finished clothing.
What is a "fun fact" about you? 
I also studied Japanese in college and was an online English as a Second Language teacher to students in Japan for a long time! I defended my thesis and graduated during lockdown, in my living room, with both of my cats present. It was a weird way to finish my college career for sure!
Anything else you would like the USI community to know about you? 
I'm really happy to be here and have been having a great semester even with all of the adjustments we've had to make due to COVID.
---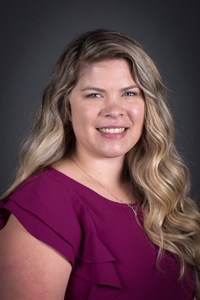 Amanda Hyett
Instructor in Chemistry
Would you share a little bit about your background?
I grew up in a small town in central Illinois and completed my bachelor's in chemistry secondary education from Southern Illinois University Edwardsville in Edwardsville, Illinois, near St. Louis. I never expected to become an educator. Instead, I thought I would do something in the medical field and chose SIUE because of its pharmacy program. After one meeting with the Pre-Pharmacy Association, I decided I wanted to be in a field that needed personnel and where I could make the greatest impact. After all, all other careers are possible because of an educator.
I taught high school chemistry, physics and physical science in west central Illinois for about two years before beginning graduate school. I attended South Dakota State University in Brookings, South Dakota, for four years before successfully defending my dissertation in chemistry with a focus of chemistry education.
What is your focus/area of interest and how did you become interested in it? 
My areas of study within chemistry education include novice/expert relationships, and studying risk and hazard and how students and professionals recognize and understand the terms. I am also interested in constructivism, a teaching pedagogy where learning is reliant upon past experiences and recognizes that we build our knowledge based on previously learned knowledge and experiences. I am interested in constructivism in general as it applies to learning and how social constructivism impacts learning: we cannot only learn from our own past experiences and knowledge, but the knowledge and experience of our peers, too. I have been fascinated with how students build their knowledge and have found chemistry to include many concepts that build upon each other, so it just fit nicely together!
Describe your teaching style. 
I rely largely on relationships: relationships between the students and myself, and the students with each other. With the current climate, it has taken longer than usual for those relationships to be built due to physical barriers (masks and physical distancing) but I think we have overcome this challenge. I aim for my lectures to be interactive, include more active learning and connect to "real life."
I also try to focus on my students as people first and students second. This year has been challenging for us all, so being as accommodating (while still maintaining high expectations) as possible has been my go-to so far.
What do you like to do in your free time? 
I enjoy (safely) visiting friends and family, reading, knitting, sewing and baking when I am not preparing for class or grading assignments. My current projects include a periodic table quilt, afghans for children in foster care and trying my hand at new desserts!
What is a "fun fact" about you? 
I used to show my American Quarter Horse, Trip, around Illinois at county fairs and American Quarter Horse Association shows. He was 16.1 hands (64.4 inches) tall, and we showed English and Western Pleasure (different from the rodeo horses). I had a lot of fun but found I enjoyed the process of getting ready for the show and helping others get ready more than actually showing myself. Trip has since passed away, so now I enjoy watching friends in their pursuit of the blue ribbon.
Anything else you would like the USI community to know about you. 
I LOVE chemistry (and all science) jokes and "dad jokes"—the cornier, the better!
---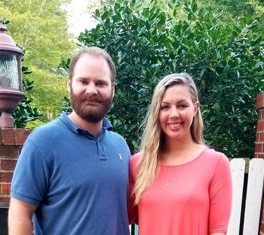 Dr. Cody Strom
Assistant Professor of Kinesiology and Sport

Would you share a little bit about your background?
I grew up in a small town in Northern Minnesota where I participated in hockey, football, baseball and tennis. I started coaching tennis at 17 and became increasingly interested in all aspects of sports and health. I attended Minnesota State University, Mankato while studying biomedical science (pre-med), as well as exercise science. I graduated as a dual major and was given the opportunity to earn my master's in exercise physiology at the same institution. I fell in love with research and wanted to continue my studies past my masters. I was accepted into East Carolina University's Bioenergetics and Exercise Science PhD program in 2017, where I managed to complete my PhD in three and a half years.
What is your focus/area of interest and how did you become interested in it? 
My primary areas of focus during my master's program were method development, protocol design and normative data testing. Once I moved to North Carolina, my research focus was on the effects of exercise intervention during pregnancy on both maternal and neonatal outcomes. I wrote my dissertation on the effects of maternal aerobic exercise and blood polyunsaturated fatty acid bioavailability on maternal cholesterol, infant body composition and infant heart rate and heart rate variability. My interest in the areas above all stem from my goal of bridging the gap of the basic sciences with exercise science. If you can take home one thing, it is that exercise is the best medicine.
Describe your teaching style. 
I would describe my teaching style as thorough, challenging and fair. My courses are rigorous, packed with information and are meant to not only challenge students but to help them critically think. I try to merge the in-depth physiology with real world application to help students relate and retain the information. It is my goal that my students leave my courses with a true sense of accomplishment and feel ready to take on the greater challenges of the field post-education.
What do you like to do in your free time? 
I enjoy spending time with my soon-to-be wife, Samie, and our adorable snowshoe cat, Holly. I like to stay active in the weight room and play in hockey leagues. I also have been known to brew beer every now and again. 
What is a "fun fact" about you? 
I willingly jumped off the top of a mountain with a parachute in Cape Town, South Africa.