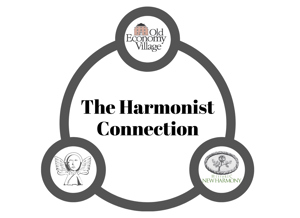 Historic New Harmony is partnering with the other two Harmony Society historic sites, Historic Harmony in Harmony, Pennsylvania, and Old Economy Village in Ambridge, Pennsylvania to bring quarterly virtual programming called "The Harmonist Connection" to the public beginning on Tuesday, November 17 at 6 p.m. CT/7 p.m. ET.
This is the first time the three sites of the Harmony Society, Historic Harmony, Historic New Harmony and Old Economy Village have partnered together to discuss their history, connection and influence the society has on their sites today.  
"With virtual programming becoming more popular, we thought this was the perfect opportunity to bring the three sites of the Harmony Society together. This first meeting will act as an introduction of each site, but future meetings will include discussions of topics that connect each site through the Harmony Society," said Claire Eagle, Community Engagement Manager of Historic New Harmony.
The Harmony Museum, located 30 miles north of Pittsburgh, Pennsylvania, celebrates the history of the communal Harmony Society that was founded here in 1805. The first followers of the self-proclaimed prophet Father George Rapp arrived in the winter of 1804 from Württemberg, part of present-day Germany. By 1805 some 90 families had followed Rapp to the western Pennsylvania wilderness, pledging their worldly possessions to the Harmony Society. Within a few years, the religious commune soon numbered a thousand members, with 2000 cultivated acres and more than 100 buildings, including a church, school, warehouse, woolen mills, grist mills, brewery and tannery. About two dozen of those buildings still exist. Historic Harmony and its Harmony Museum tell the story of the early Harmonists and preserve a total of nine historic properties in and around the small but bustling Borough of Harmony, Pennsylvania.
In 1814, the Harmony Society settled their second community, New Harmony, Indiana, now Historic New Harmony. Between 1814 and 1824, the Harmonists constructed over 180 log, frame and brick structures in their settlement. The community was entirely self-sufficient and produced a wide variety of goods that were recognized worldwide for their fine quality. Harmonist wares were sold throughout the United States and overseas in the British Isles, the Netherlands, Switzerland and Germany. Through divine guidance, George Rapp sought a buyer for the entire town in order to facilitate their relocation to Pennsylvania in 1824. The town was sold to Robert Owen, a Welsh industrialist, and his business partner William Maclure. Today Historic New Harmony is a unified program of the University of Southern Indiana and the Indiana State Museum and Historic Sites. By preserving our utopian legacy, we inspire innovation and progressive thought through programs and collections. 
Economy, Pennsylvania was the third and final home of the Harmony Society, established in 1824 along the Ohio River. Here the Society experienced the Great Schism, which took away one third of its members. Industries included wool, cotton and silk, as well as wine, beer and whiskey. As the Society grew older, hired workers took over the general functions of the town, and major business interests turned toward investments. The Harmony Society became involved with railroads, coal, oil and lumber, as well as owning most of the town of Beaver Falls, Pennsylvania. After selling off most of its holdings, the Society closed in 1905 with two members remaining as the booming town of Ambridge in its infancy sprang up around them.
With the pandemic having a large impact on visitors, the sites have brainstormed how to reach their audience and continue their educational mission virtually.
"With all of the virtual programs and meetings these days, why not have a meeting with all three Harmonist sites? We aren't usually able to do too much together because of the distance, but these strange times have introduced the idea that we can be together anyway," said Sarah Buffington, Curator at Old Economy Village.
"The Harmony Museum is so pleased to participate and share some of our nine sites that preserve earliest Harmonist architecture and tell the story of their amazing success in their first American home," said Rodney Gasch, President, Historic Harmony and Harmony Museum.
Additional topics of discussion for the quarterly series will be determined during the first discussion on November 17. Registration and additional information can be found on Historic New Harmony's Facebook page.
For more information about Historic New Harmony, contact Erin McCracken Merris, Marketing Specialist for USI Outreach and Engagement, at emccracken@usi.edu.