Joyriding down a school hallway could easily result in detention. 
But when the "open road" of Scott Elementary beckoned this fall, it was Evansville Vanderburgh School Corporation (EVSC) physical therapist Jean Neidig who encouraged a hesitant second grader to take a test drive. 
Because of mobility issues, 8-year-old Charleigh Garrett can't pedal a traditional bike. She can—and did—however, zip past classrooms on a highly customized set of wheels designed and developed by USI students.
"She was excited," says Neidig. "She was surprised how fast it went, I think."
The idea
In the summer of 2019, USI occupational therapy (OT) students Kate Duty '20 and Taylor VanCleave '20 happily agreed to help with a relay race at EVSC's annual Special Olympics Unified Champions Game Day—a field day for students with special needs. They soon realized Dr. Karen Dishman, Assistant Professor of Occupational Therapy, didn't want them to volunteer; as part of her class, she expected them to create a race activity students could enjoy, regardless of their physical challenges.
VanCleave suggested an adapted hand cycle bike that would allow students who couldn't walk or run to ride, powering the wheels with their hands instead of feet. But with limited resources and construction skills, they needed to simplify. The back and harness they eventually added to a scooter board, allowing students to be safely pushed on a track, wasn't fancy. But it was fun.
And an upgrade was on the way.  
Going high tech
Every engineering student at USI completes a senior design project. As Logan James '20, Trevor Yoder '20 and Alessandro Trujillo '20 discussed ideas, Duty and Van Cleve's adaptive bicycle/tricycle, shared with them during class, rose to the top of their list.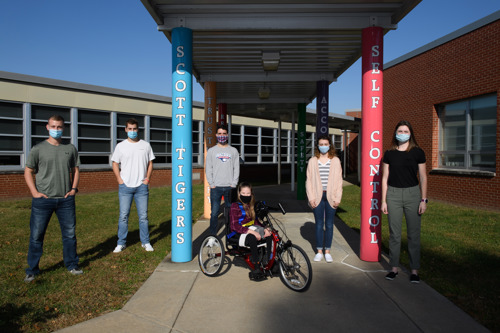 "We had originally thought of doing a project for [a large company], but then we thought this would be more of a longer lasting impact project …. And a more meaningful project," said Yoder.
"It impacted kids … and it was also kind of open to how we wanted to do it and design it," added James.
After brainstorming concepts, they ordered a tricycle frame and prepared to adjust it to meet the OT students' specifications, making it functional and safe.
They had no idea a global pandemic was about to make the already demanding project even more challenging.
Long-distance teamwork
Around the time the tricycle frame arrived, COVID-19 forced James and Yoder back home to Montgomery, Indiana, about an hour from Evansville. As an international student, Trujillo remained on campus. He used the unmodified trike to create a 3D model before it went to Yoder's house for the physical work. "We'd be in contact pretty much every day, just working on something, whether it was the [senior design project] report, or putting stuff together or designing something," said James. "We spent a lot of time on Zoom."
"It was challenging," said Trujillo.
Still, their advisor, Dr. Todd Nelson, Assistant Professor of Engineering, saw progress. "They worked together. Every decision they made was a team decision," he said. "I knew everybody was on board with this project every step of the way."
As the engineers calculated wheel size and acceleration speed, Duty and VanCleave answered their OT questions via email while completing clinical assignments in Illinois and Kentucky, respectively. "It was really cool getting that experience with someone outside of the medical profession, being able to do things with engineers and adapt things," said Duty.
"I think it opened their mind to the vastness of disability and the variety of it, because every kid's different," VanCleave added.
Personal impact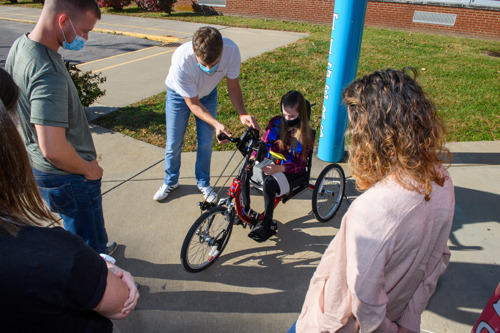 The project was meaningful for everyone involved, but for Yoder it was personal; his mother experienced a stroke three years ago limiting mobility on her right side. With no way to connect with children to test the tricycle during the pandemic, she helped make sure adaptations her son and his classmates were making worked. "That was part of the reason why it meant a good amount to me …. It could ultimately help people out and [allow them] to experience something they wouldn't exactly get to experience before," Yoder said.
In the end
Time and distance limitations prevented Trujillo, James and Yoder from adding everything they'd initially planned to the project; for example, they'd hoped to install a swivel seat making it easier for children to transition from their wheelchairs to the tricycle. "Maybe in the future, another engineering group will try to upgrade the version we created," said Trujillo.
For now though, their version is doing exactly what they hoped: making an impact.
"It's really awesome that our small idea grew so much," said Duty.
"It's just unbelievable," Dishman said. "Seeing this actually happen is a dream come true for me. This is why I got into the profession."
For more than a year—from concept and completion to action and opportunity—it's been a ride.  
A joy ride.
"It's phenomenal," added Neidig. "There will always be someone who will benefit from it."
Watch Charleigh ride