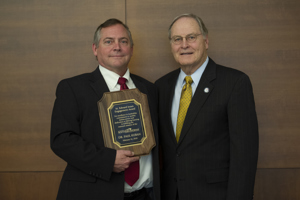 University of Southern Indiana Outreach and Engagement is now accepting nominations for the M. Edward Jones Engagement Award through Monday, March 8, 2021.
The M. Edward Jones Engagement Award is awarded annually by USI Outreach and Engagement to recognize an individual, group or project for excellence in leadership, commitment of quality, tireless service and dedication to lifelong learning in fulfilling the outreach mission of USI.
Outreach and Engagement Mission:
Outreach and Engagement's mission is to provide and facilitate quality educational, research and technical services for people, groups and organizations in Indiana and the Tri-state. These activities support and promote individual well-being, social and cultural enrichment, economic opportunity and regional development.
"USI has a strong culture of listeners, innovators, educators and collaborators who enhance bonds between community, government, businesses, organizations and individuals, responding to their needs and fostering learning and growth," said Dawn Stoneking, Interim Associate Provost for Outreach and Engagement and Director of Lifelong Learning. "Through the M. Edward Jones Engagement Award, we are excited to celebrate the work of our colleagues to further the mission of Outreach and Engagement and USI within this community."
The award was founded in 2015, after M. Edward Jones, Vice Provost Emeritus for the University of Southern Indiana's Outreach and Engagement. Jones, founding director of Continuing Education (now Outreach and Engagement), was a key player in creating and expanding outreach efforts during his USI career from 1974 to 2010. His endeavors significantly bolstered the growth and reach of programs offered by Outreach and Engagement.
"I genuinely appreciate the thoughtful consideration that Dr. Jones put into creating the engagement award, and it was indeed an honor to be selected and recognized. However, the true credit goes to all the faculty and staff who work so hard to make these outreach activities successful. It is through their efforts that ideas become a reality. I am very fortunate and very grateful to work with such awesome people at USI and look forward to congratulating this year's winner of the M. Edward Jones Engagement Award," said Dr. Paul Kuban, Professor of Engineering, Chair of the Engineering Department and 2020 recipient of the M. Edward Jones Engagement Award.
Previous award recipients include:
2015 - Dr. M. Edward Jones, Outreach and Engagement
2016 - Linda Cleek, Outreach and Engagement
2017 - Dr. Kathy Elpers, Social Work
2018 - Dr. Jeffery Seyler, Chemistry
2019 - Dr. Rick Hudson, Mathematics
2020 - Dr. Paul Kuban, Engineering
"There are many individuals and groups that understand the importance of giving back to the community through volunteer activities," said Dr. Jeffery Seyler, Professor of Chemistry. "Most of these volunteers do so because they have a passion for sharing and helping others. It was truly an honor for me to receive the Edward Jones Engagement Award (2018), and this recognition encourages me to continue with my community outreach." 
The recipient of the 2021 award will be honored during a virtual recognition event in April.  
"Engagement in our local, regional and global community is critical to USI's mission of advancing education. The M. Edward Jones Engagement Award allows us to recognize the important contributions of those in our USI community who seek out opportunities for outreach and who are dedicated to lifelong learning outside of the traditional classroom," said Dr. Rick Hudson, Associate Professor of Mathematics, Chair of the Mathematics Department and 2019 award recipient.
For more information about the M. Edward Jones Engagement Award, contact Erin McCracken Merris, Marketing Specialist for USI Outreach and Engagement, at emccracken@usi.edu.