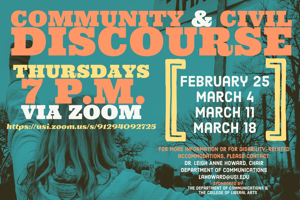 The USI College of Liberal Arts and the Department of Communications will host "Community and Civil Discourse: Perspectives from the Liberal Arts," a four-week lecture series featuring faculty members in the College of Liberal Arts, beginning at 7 p.m. Thursday, February 25 and repeating weekly through Thursday, March 18. All presentations are free and open to the entire USI community.
This 4-part lecture series will offer the opportunity to share information and create dialogue about community--how different communities are formed, maintained and perpetuated as well as what impact these communities have on civil, civic discourse. Over the course of this lecture series, speakers will apply their academic expertise in journalism, philosophy, history, psychology, communication studies, political science, sociology, criminal justice, literature, languages, and the arts to offer perspectives that can inform the complicated social events—historical and current—that have challenged our understanding of community and have questioned who we are as members of local, national, and global communities.
Each event features 4-5 faculty panelists speaking for 8-10 minutes, followed by a question-and-answer session facilitated through Zoom. A full schedule of speakers is below:
Thursday, February 25: Information, Misinformation and Disinformation
Erin Gibson, Instructor of Journalism
Dr. Mary Lyn Stoll, Associate Professor of Philosophy
Dr. Srikanth Dandotkar, Assistant Professor of Psychology
Dr. Nicholas LaRowe, Associate Professor of Political Science
Thursday, March 4: Mobs, Mobility and Mobilization
Dr. Andrew Buck, Associate Professor of Sociology
Dr. Todd Schroer, Associate Professor of Criminal Justice
Dr. Mary Hallock Morris, Associate Professor of Political Science
Dr. Rocco Gennaro, Professor of Philosophy
Thursday, March 11: Ethics, Justice, Reasoning
Thursday, March 18: Aesthetics, Transformations, Interventions
Kevin Allton, Instructor of English
Dr. David Hitchcock, Professor of Spanish
Sara Christianson Blair, Professor of Art
Dr. Lindsay Greer, Assistant Professor of Communication Studies
Dan Craig, Associate Professor of Music
All events will be held via Zoom at https://usi.zoom.us/s/91294092725. For more information or should you require disability-related accommodations in order to participate, please contact Dr. Leigh Anne Howard, Chair of the Department of Communications, at lahoward@usi.edu.