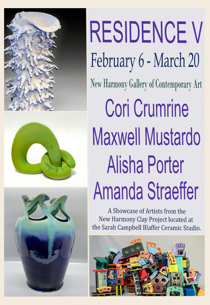 The New Harmony Gallery of Contemporary Art's latest exhibition, Residence V, will be on display Saturday, February 6 through Saturday, March 20.
Residence V is an annual exhibition that showcases the resident artists from the New Harmony Clay Project (NHCP) located at the Sarah Campbell Blaffer Ceramic Studio, in the lawn adjacent to Philip Johnson's Roofless Church. This year the exhibition will feature artists Cori Crumrine, Maxwell Mustardo, Alisha Porter and Amanda Straeffer.
The NHCP residency program fosters an environment that supports the investigation of new ideas and work of ceramic artists. The program operates under the New Harmony Artist Guild, a non-profit 501(c)3, that serves as an incubator for nurturing the arts. NHCP is a rural residency program, supported by the Efroymson Family Fund, Greater Houston Community Foundation, Lenny and Anne Dowhie Trusts and Robert Lee Blaffer Foundation. The goal is to encourage emerging and professional visual artists and educators in ceramics by giving them quiet space and the time to develop a new body of work.
Cori Crumrine is curious and concerned by the attractive qualities of artificial things: flavors, colors, and materials. The world's consumption and obsession with plastic is a conscientious issue that she examines through her work. Crumrine borrows confectionery forms and colors from the culinary world, playing with the duality of delight and distaste. Utilizing the food aspect of her work, she strives to incorporate repurposed artificial materials into her studio practice so as to create work and conversations about the issue of consumption.
Maxwell Mustardo has been conducting rigorous material research with plastics and glasses for the past few years and his resulting work has become more sculptural and less utilitarian. While in New Harmony, his goal has been to push his work back towards functionality while maintaining robust material exploration. Mustardo has been developing his own glazes using metal saturated glasses that precipitate crystal growth during a kiln's cooling, as the metals can't become chemically stable in the fully melted glass matrix. His material research through glaze testing has led into the creation of forms tailored to suit the needs of these developed surfaces.
Alisha Porter addresses materiality and her bodily experiences. She utilizes progressive plaster mold processes, glaze and clay body formulations, and surface design and texture techniques to address the materiality of her queer body via the materiality of ceramics. Plaster molds taken of her body and functional wares are joined and adorned with surface design to produce intriguing forms that lead to subversive understandings. 
Amanda Straeffer's current work extends from literal to representational to connect with a diverse audience while also maintaining the continuity of her overall theme—nature and the elements of water and land, and how they interact with each other. She is inspired by Annie Quigley and her use of cut outs to depict nature in a more organic way rather than geometric. While Straeffer's work has used some variation of this technique in the past, it has evolved from static geometry into more natural designs depicting waves along the tops of vases and bowls.
This exhibition is made possible in part by the Arts Council of Southwestern Indiana, and the Indiana Arts Commission, which receives support from the State of Indiana and the National Endowment for the Arts.
The New Harmony Gallery of Contemporary Art is an outreach partner of the University of Southern Indiana. The gallery is located at 506 Main Street in New Harmony, Indiana. Regular hours are 10 a.m. to 5 p.m. Tuesday through Saturday. For more information, call 812-682-3156 or go to USI.edu/nhgallery.
For more information about New Harmony Gallery of Contemporary Art, contact Erin McCracken Merris, Marketing Specialist for USI Outreach and Engagement, at emccracken@usi.edu.