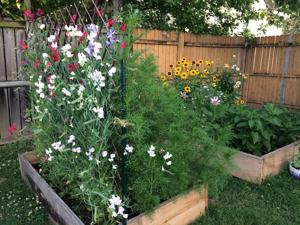 It sometimes seems like our social media feeds know us better than we know ourselves. Our curated platforms are intentionally scattered with personalized likes and interests, and whether we like it or not, we are heavily influenced by these daily messages. When photos of blossoming flowers and foster cats began to flood her Instagram feed, Rebecca Lutton, Managing and Marketing Director for University Theatres, took this as a sign that it was time to combine her interests and transform them into a real-life endeavor. TigerBelle Flowers, named after Lutton's two foster-turned-adopted cats, Tiger and Annabelle, had its first bloom on May 17, 2020.
Lutton has always loved the different varieties of flowers that can be grown in the Evansville area, but found herself disappointed with the bouquet offerings in stores. If she wanted specific types of flowers, Lutton decided she would need to grow them herself.
TigerBelle Flowers isn't your traditional backyard garden—instead, it's a cut flower garden with the intention of using them for bouquets. Flowers are planted in raised garden boxes and arranged in rows to avoid overcrowding and the tangling of stems. "You want to choose flowers that bloom prolifically and have long, strong stems," Lutton says. "They don't have to be easy to grow or low-maintenance, but if you choose those types of flowers [that take more attention], you have to keep up with what they need to grow. These [raised garden boxes] gave me control over creating the soil and putting in nutrients that different flowers need from the get-go, instead of trying to amend my natural yard."
Last summer, Lutton was able to enjoy the colorful views outside of her window, but the beautiful blooms were far from effortless to grow. "As much as I love flowers, growing them has been nothing short of frightening," she says. "I've had an unfortunate black thumb all my life. I killed well over 100 seedlings last year."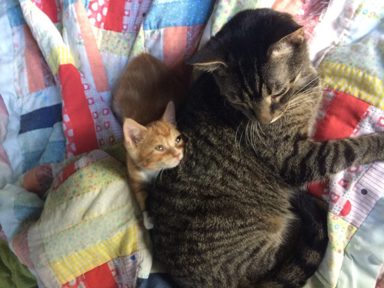 Despite her fair share of trials and tribulations while starting up TigerBelle Flowers, Lutton's variety of rudbeckias, cornflowers (commonly known as bachelor's buttons), sweet peas, strawflowers, daisies, poppies, four o' clocks, candytufts, cosmos, zinnias and dahlias made for the perfect summer bouquets to give to friends and family. This summer, she'll be adding at least three more raised garden boxes to her backyard collection with hopes to sell flowers to those interested in unique, locally made bouquets.
And though Tiger, Lutton's 17-year-old foster cat passed away in April, Annabelle and Lutton will continue to expand TigerBelle Flowers to honor Tiger's legacy. "I still miss him and know that Annabelle does as well. This just makes TigerBelle Flowers that much more special to me."
Did you know?
Lutton is very involved in animal welfare and fostering.
Your backyard doesn't have to be big to have your own cut flower garden. Lutton says hers is very small.
Annabelle, Lutton's orange cat, has dwarfism which affects her physical abilities.
Lutton has a logo designed for TigerBelle Flowers and plans to put it to use this summer.
This summer, Lutton will be including more varieties of sunflowers in her raised garden boxes.