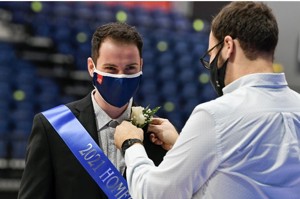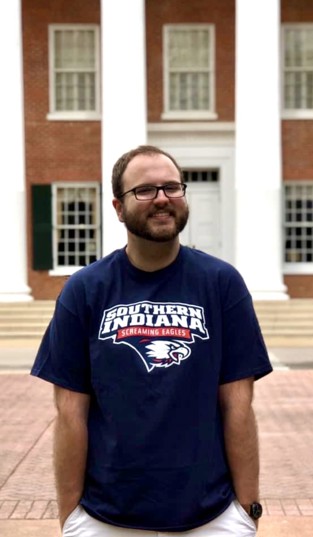 If you ever see Nathan Payne, Program Coordinator for Student Development Programs, walking around campus, don't be afraid to compliment him on his stylish shoes. Payne has a passion for helping students in any way that he can, and his shoes are just one of the things that allow him to bond with students. "When students see my shoes, they are more comfortable to come up and start a conversation with me, which allows me to get to know them better and help them in any way I can."  
A proud Owensboro native, Payne attended Apollo High School before receiving his bachelor's degree in business communication from Murray State University. Payne then went on to receive his master's in higher education from the University of Mississippi and is now taking online courses through Boston Conservatory at Berklee to get a degree in electronic music production.  
After graduating with his master's degree, Payne decided it was time to move closer to home where he could be closer to his family, including his brother and three sisters. Payne now lives in Evansville and spends his days working with students inspiring them to be the best they can be.  
Let's get to know more about the fashionable and easily excitable Nathan Payne.  
What initially drew you to USI? 
After graduating from the University of Mississippi, I knew I wanted to be closer to my family. I applied for a ton of jobs and ended up getting an interview for Program Coordinator in the Student Development Program office here at USI. Just from my interview, I was able to meet and build relationships with so many incredible people on campus and knew USI would be a good fit for me. USI is not only close to my home and family, but I'm glad to say it has become my home, as well.   
What are your responsibilities as Program Coordinator? 
As a Program Coordinator, I oversee student activities on campus. I serve in an advisory role to the Activities Programming Board, which provides fun, free events for students on campus. I am also in charge of Cinema USI, Springfest, and Homecoming, which is ironic considering I lost my own homecoming back in the day. At the end of the day, my job is to make sure students are happy while they are here. If they ever have any questions, they can reach out to our office, and we can help. 
What are some good ways for students to get involved on campus?  
USI has over 150 organizations on campus, all of which can be found on Eagle Sync, so that's a good place for students to start. We also offer involvement fairs, which allow students to meet different organizations on campus and offers them the opportunity to get involved. Even if you don't see an organization you're interested in, here at USI it's very easy to create your own. Odds are if you are interested in something, others will be interested too, so don't be afraid to reach out and start your own organization.   
What do you like to do outside of work? 
 Outside of work, I love to produce music on my computer. Music has always been a huge part of my life, which is why I am taking classes to get a degree in electronic music production. A dream of mine is to start a program within a community that allows kids the opportunity to learn about electronic music and to start producing their own, which they may not have the opportunity to do otherwise since it can be so expensive. I also love talking music with people and getting song recommendations, so if anyone ever has any good ones, feel free to send them my way.  
Besides music, I'm also a big fan of sports. A few of my favorite teams are the Dallas Cowboys, Cincinnati Reds and the Memphis Grizzlies, so I spend a lot of my time watching them and going to games. I also really enjoy being active myself and spend a lot of my free time working out at Bob's Gym.   
Since you love music so much, what song do you think would be the soundtrack to your life? 
This is a really tough question, and there is no way I could choose just one. I think it would have to be a three-way tie between "Reborn" by Kid See Ghosts, "Hey Mama" by Kanye West and "i" by Kendrick Lamar. I have always resonated with "Hey Mama" because it relates a lot to me and my life experiences. "Reborn" and "i" are songs that I just really enjoy because they remind me to have a positive outlook on life. I'm also just a huge fan of Kendrick Lamar and have actually met and had a conversation with him, so I had to include one of his songs. 
If you could only eat at one place the rest of your life, what would it be? 
Raising Cane's all the way. I am a card-carrying member of the Caniac Club and have two free meals because I go there so often. I always get a Number 2 box combo with a lemonade and put Cane's Sauce on everything. I love Cane's Sauce so much that I want an IV of the sauce injected in my veins.   
Who is your role model? Why? 
My role model would have to be my mom. My mom and I are best friends, whether she admits it or not, and I have always looked up to her. She has always been there for me and has helped me through a lot of hard times. In her life, she raised two boys and seeing her strength was phenomenal. Whenever anything happens in my life, good or bad, she is always the first person to know. 
Knowing what you know now, what advice would you give to your past self? 
I think I would tell myself that no one thinks about you as much as you think about yourself. We put so much pressure on ourselves and worry about what other people think whenever they aren't actually worried about us at all. Worrying only affects one person, and it's yourself. So, be happy, be healthy and don't worry about what others think.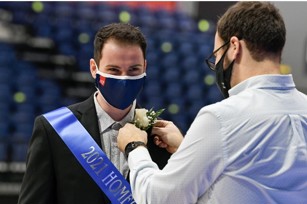 What motivates you? 
A lot of the time, what keeps me going is interacting with USI students and helping them achieve their goals. The students I have worked with are some of the best people I have ever known, and nothing makes me happier than seeing them be successful. My favorite thing ever is helping a student see what I see in them in themselves and instilling that confidence in them.