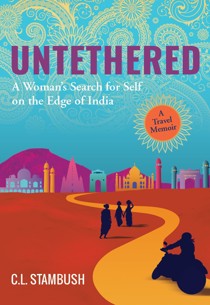 While C.L. Stambush's nearly 7,000-mile, five-month adventure, as well as writing and publishing a book, were lone journeys, the USI illume Editor and Senior Writer commissioned and collaborated with her colleague, USI's Director of Creative and Print Services Terri Bischoff, to illustrate and create the cover of her independently-published travel memoir, Untethered: A Woman's Search for Self on the Edge of India – A Travel Memoir.
Untethered Synopsis:
As a girl, C.L. Stambush hugged the wall of her grade school hall, afraid of what might happen if she let go; now she clings to a Royal Enfield Bullet motorcycle in a quest to prove to herself she "can go anywhere, do anything, be anyone" she wants.
Never having ridden a motorcycle before, she buys a Bullet and names it Kali after the Hindu goddess of rebirth, hoping to gain some of her grrrr. Stambush plans to discover the fifty-one Hindu shakti peetha temples, containing pieces of the goddess—lips, wrists, heart—sacred sites believed to possess the power to transform, in an attempt to rewrite her persona.
Along the way, she is reshaped as she encounters friendly families and ominous men, confronts culture clashes, hijras, and bandits, experiences monsoons, scorching deserts, and homicidal drivers, crashing her motorcycle and learning about herself as she loses her camera, her way, and her self-control—crossing lines she never imagined possible.
Untethered immerses readers in India's diverse culture while vividly conveying the harrowing and triumphant journey of a woman alone, in a world where women don't travel alone, discovering her true grit.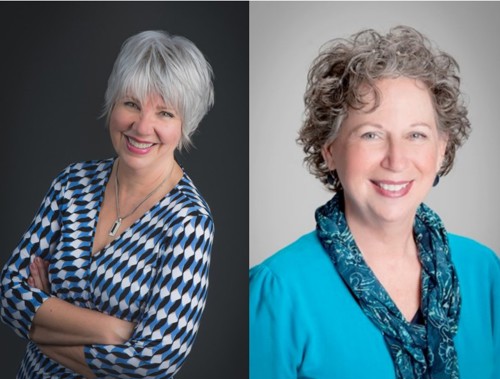 1. Why did you decide to independently publish Untethered rather than seek an agent and traditional publisher?
Like most authors, I had my heart set on the traditional publishing route and even had two offers of representation from agents. In the end, I decided not to sign with either one for different reasons. Traditional publishing is a fickle world, and the tastes of editors varies. The most common reason I got for rejection was "travel memoirs are hard to sell." I'm not a write-to-market writer (someone who writes in a big selling genre like romance). I had written this book and wanted to get it in the hands of readers who like adventure stories by women.
I began to read trade publications, such as Publisher's Weekly, and learned that most new, unknown writers who publish through a traditional house would be lucky to sell 200 copies because big publishing houses don't provide much, if any, marketing support. Even with a traditional publisher, I'd have to do my own public relations, marketing, book tour – all on my dime. For all that work, I'd earn 7.5% - 15% of the price in royalties.
I decided if I could ride a motorcycle solo around India, I could very well publish my own book. This way, I earn 70% in royalties.
2. Why did you decide to hire an artist to create the cover, and why Terri?
The cover of a book is the first thing potential buyers/readers see and it has to be AMAZING to get people's attention today. There are several online sources where graphic designers will create a cover for as little as $5, but you get what you pay for there. I spent years writing this book. I wanted the best cover possible. I work with Terri daily as editor of illume. She is very creative and easy to work with. She is a patient person, and I knew I'd be like a "new mother" and be nervous about everything. I trusted she would take good care of me. She did!
3. Terri, can you talk a little about the design's theme/image? Did you two have lots of conversations?
When I think of India, I visualize lots of bright colors and warmth. As Connie said, the cover needed to get people's attention. Connie and I looked at several color palettes and other book covers in this genre to decide what we liked and what we didn't like. We had lots of conversations about India, the landscape and the mood Connie wanted to convey. The design is more conceptual than realistic, but needed to show the winding journey of the lone rider through the vast landscape of India. I have always wanted to do illustration work and this project provided me with my first opportunity.
4. The colors are so vibrant, why were they selected? What does the red sand represent?
From my research I saw that India uses a lot of bright vivid colors in clothing, architecture, artwork, etc. The bright blue sky along with the red sand give a sense of a vast open landscape. I chose red for the sand as the Indian climate is hot and dry and it serves as a visual anchor to draw the eyes down to the roadway and then to the motorcyclist.
5. Terri, what was the collaboration process like for you two? What can other authors expect to happen when working with a designer?
Connie and I have an advantage as we often work together on various USI marketing and publication projects, so this seemed like a natural process. Authors should ask to see examples of a designer's work to get an idea of skillsets. It's important for authors to verbalize at the outset what they are wanting the cover design to accomplish and give the designer as much direction as they can before the designer starts the process. I gave Connie some really rough sketches of the cover layout and composition and selected a color palette which narrowed down the direction I would go. I am proud of Connie's achievement and glad that I got to be a small part of it!
6. Connie, what's next?
The book is available in both print and e-book on Amazon, so I'll be marketing, marketing, marketing. I told my boss, John Farless, I was going to stop being a writer and become a full-time marketer. He smiled. I don't think he believed me.