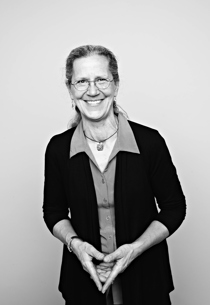 The University of Southern Indiana's Geriatrics Workforce Enhancement Program (GWEP) is hosting a free, online dementia care series for direct care providers Monday, March 29 – Thursday, April 1. The live, virtual learning is the result of a collaboration with Teepa Snow and her company, Positive Approach® to Care (PAC), to improve the lives of people living with dementia and transform the culture of dementia care.  
Snow, an occupational therapist from North Carolina, developed the PAC training model to support a skills-based approach to dementia education. She shares new information in a manner that anyone connected to dementia can understand brain change and ways to offer support.
Dr. Katie Ehlman, Professor of Gerontology and GWEP director, said USI has had an eight-year partnership with Snow and her team. "We first met Teepa when she gave a keynote at the annual Mid-America Institute on Aging and Wellness at USI in 2013 Teepa's model for understanding progression and change in ability, combined with PAC techniques, form effective strategies to support those living with dementia and optimize care."
Lisa Fournier, GWEP Project Coordinator, said the online workshops are designed for direct care providers in long-term care, community-based care and primary care. "Working in the world of dementia care can be intense and often frustrating. Teepa's workshops are important for direct caregivers as they will allow them to learn new skills and to see those living with dementia as individuals."
A full schedule of training sessions is listed below (all times listed in Central Daylight Time):
Monday, March 29, 2-3:30 pm
Recognizing and Responding to Exit-Seeking
Tuesday, March 30, 8-9:30 am
Person-Centered Care: Who Am I, and Why Does it Help Your Staff?
Tuesday, March 30, 9:30-11 am
Supporting Staff to Prevent Abuse and Neglect
Tuesday, March 30, 2-4 pm
End of Life and Advance Care Planning (ACP)
Wednesday, March 31, 2-3:30 pm
Activities and Engagement to Prevent Challenging Situations
Thursday, April 1, 2-3:30 pm
Sexuality, Intimacy and Dementia
The USI GWEP has teamed up with three anchor partners for these workshops: Miller's Merry Manor, Signature HealthCARE of Terre Haute, and American Senior Communities (ASC).
"American Senior Communities realizes that a well-educated care team is essential for the well-being of our residents," said Melanie K. Perry, Director of Memory Care Support Services for ASC. "We are so pleased to have one of the profession's most recognized Alzheimer's topical educators offer this series to our care community frontline and leadership team members. All ASC interdisciplinary teams have been encouraged to participate in this unique opportunity."
In 2019, USI received a five-year grant from the Health Resources and Services Administration, an agency of the U.S. Department of Health and Human Services, to implement the GWEP. The live, virtual learning opportunities with Snow are one aspect of the GWEP, which is also focused on creating dementia friendly communities, such as Petersburg and Rockport, Indiana, and integrating geriatrics into primary care.
To register for the dementia workshops, visit USI.edu/gwep/teepa.
This project is supported by the Health Resources and Services Administration (HRSA) of the U.S. Department of Health and Human Services (HHS) as part of an award totaling $3,691,706 million with zero percentage financed with nongovernmental sources. The contents are those of the author(s) and do not necessarily represent the official views of, nor an endorsement, by HRSA, HHS or the U.S. Government.