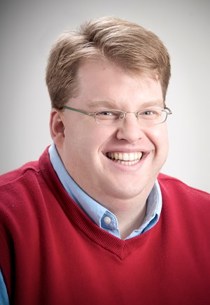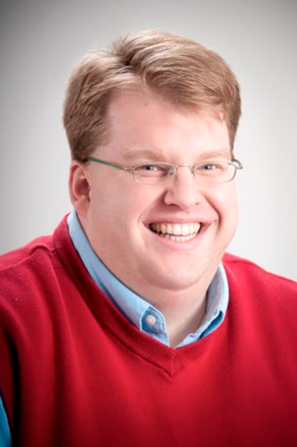 Aaron Adkins, Advisor and Coordinator of First-Year Experience and Career Counseling for the Center of Exploring Majors, grew up in Tell City, Indiana, but he has since traveled all over the country. Adkins fell in love with college life, which is why after receiving his undergrad degree from Kentucky Wesleyan College, he continued his education and received his master's degree from Western Kentucky University while working at KWC as a hall director and Greek advisor.  
After graduating, he and his wife Sibbie packed their bags and moved to Macon, Georgia, where he worked at Mercer University for nearly 10 years. Adkins, his wife and their two dogs, Betty and Winston, relocated to the Evansville area after he accepted a position here at USI. Moving back to the area has allowed him and his wife to reconnect with old friends and spend more time with their families. However, they do dream of someday moving back to Savannah, Georgia, after retiring to spend their time exploring the city and doing what they love most, traveling.   
Let's learn more about the curious and fun-spirited Aaron Adkins.   
 What made you choose USI? 
We were visiting family in the area in the fall of 2009. While we were here, my wife found out about a job opportunity that piqued her interest. She both applied and interviewed for the position while we were visiting. And, lo and behold, she was offered and accepted the position a short while later. What started out as a mini-vacation quickly turned into a whirlwind of packing up, selling a house and moving 500 miles away. I started looking at job postings, and an advisor position at USI caught my eye. I had especially enjoyed my time as an academic advisor at Mercer, so I was interested in serving the USI community in that capacity. I quickly applied, and I was fortunate to receive an interview and an offer, so the rest, as they say, is history. That was over 11 years ago, and I've worked at USI longer than anywhere else. 
What do you enjoy most about your job? 
I greatly appreciate that this role allows me to make connections with people. I'm inquisitive (okay, nosey) by nature, so I love asking questions and engaging people in conversations. And, by listening to them, answering their questions and addressing their concerns, I try to ensure that students find these conversations helpful.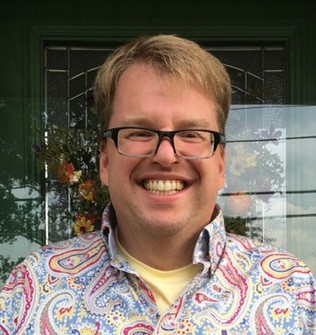 What has working at USI taught you? 
I learn so much from students, and I'm often impressed with their level of maturity, their initiative, drive, work ethic, resiliency and so on. I also think working daily with students keeps me youthful (if only at heart). I'll admit that I sometimes need to lookup certain words on Urban Dictionary for context, and I oftentimes learn more than I really needed to know (think the emoji with big shocked eyes here).   
 If you could give one piece of advice to undecided students, what would it be? 
First and foremost, it's going to be okay. Society puts so much pressure on 18-year-olds to know exactly what they want to do with the rest of their lives, and it's just not realistic.  Sometimes, they come to college with a lot of external pressure to pursue a major or career that's on someone else's "should" and "ought" list. People need time to find out who they are and what they like. They're then much better equipped to assess which major and career options best suit them.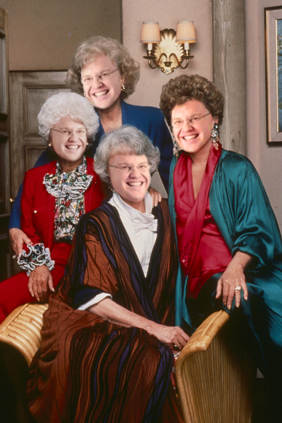 If you could only watch one TV show for the rest of your life, what would it be? Why? 
Too easy! I have to go with my "Golden Girls." I grew up watching this show when it originally aired. At the time, I didn't understand half the jokes. I've watched the reruns for the last 25 years, and even though I've probably seen every episode 50 times, they still make me laugh.  I'm not sure what my spirit animal is, but I know that Dorothy Zbornak is my spirit sitcom character.     
 What is something you wish people automatically knew about you? 
I once had a colleague tell me that I'm authentic, and I took it as a tremendous compliment. People often don't have to ask me what I'm thinking because I'll tell them. But, more than that, I try to exist in a pretense-free zone – life's way too short to pretend. There's a line from the musical "Kinky Boots" that speaks to me: "Celebrate your life triumphantly." I aspire to do that. 
 What interesting hobbies do you have? 
COVID has definitely put a damper on three of my most favorite hobbies. One, I love to travel. We had several trips planned in 2020 that we were looking forward to as soon as it was possible to travel safely – our beloved Savannah (which will also allow us to see our dear friends in Georgia), Las Vegas (to see some shows rather than gamble) and a holiday trip to New York City (to see some Broadway shows, Macy's windows and the Rockefeller Center Christmas tree).   
Secondly, I love live theater performances. I miss the local Broadway series. We had tickets to a few traveling shows that I hope can still come when COVID is in the rearview mirror.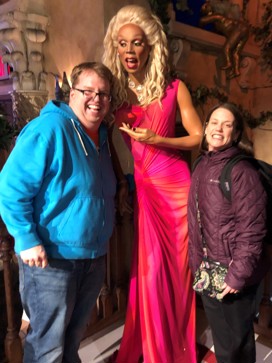 Lastly, I love yard sales, estate sales, flea markets and junk stores. You just never know what treasures you might find. The thrill of the hunt is intoxicating. My dream is to own my own second-hand store. I'd call it "Junque in the Trunk," and I have the best idea for a logo. So, if there are any graphic design students reading this, let me know if you're up for a freelance project! 
 What has been your proudest moment as an advisor? 
This happens often, but I never get tired of running into former advisees on campus or out in the community. I always try to catch up and find out how they're doing, how classes are going and what they've been up to. I'll occasionally get a "thank you for everything," and while I don't necessarily need affirmation, it gives me the feels.   
 What's something you can't go a day without? 
Diet Coke. Definitely. Diet Pepsi simply won't do. 
This Getting to Know You feature was written by Tobi Clark, a student worker in University Communications.