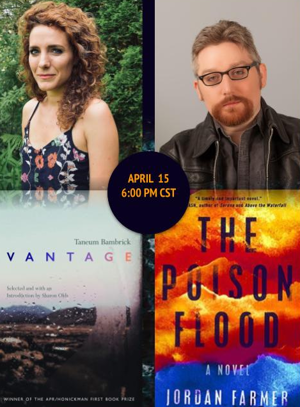 The Southern Indiana Reading Series will host a virtual reading event with poet Taneum Bambrick and novelist Jordan Farmer at 6 p.m. Thursday, April 15. The event is free and open to the public.
Bambrick is the author of Intimacies, Received (Copper Canyon Press 2022) and Vantage, which was selected by Sharon Olds for the 2019 American Poetry Review/Honickman first book award (APR 2019). Her poems and essays appear or are forthcoming in The Nation, The New Yorker, The American Poetry Review, PEN, Narrative, The Missouri Review, 32 Poems, West Branch and elsewhere. She has received scholarships from the Sewanee Writers' Conference and the Bread Loaf Writers' Conference. A 2020 Stegner Fellow at Stanford University, she currently teaches creative writing online for Central Washington University and is Book Reviews Editor for Pleiades Magazine.
Farmer is the author of The Pallbearer and The Poison Flood. In a review, Publishers Weekly described The Poison Flood as combining "an unconventional lead with a sobering portrayal of an environmental disaster's impact on a small community... Readers who like their fiction to have a social conscience will want to take a look." Jordan earned a master's degree from Marshall University and a doctoral degree from the University of Nebraska, Lincoln.
A link to the virtual event can be found at USI.edu/reading-series. The Southern Indiana Reading Series is made possible by contributions and support from the USI Society for Arts & Humanities, the USI Foundation, the College of Liberal Arts, and the Department of English. For more information, contact Rosalie Moffett, Assistant Professor of English, at rmoffett@usi.edu.