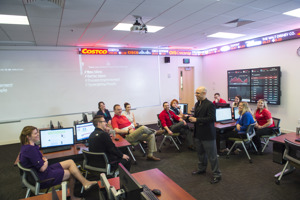 The University has moved closer to the launch of a new Center for Adult Learner Success (CALS) beginning in Fall 2021 that will offer an innovative infrastructure for adult learners to obtain additional education credentials through both credit and non-credit instruction.
The initiative is the result of a $2.5 million grant announced last September through Lilly Endowment Inc. as part of phase 2 of its Charting the Future for Indiana's College and Universities Initiative. Seven grant-funded positions have been posted that will help support the new initiative and range from the director of the center to intake specialists and a marketing manager.
CALS will fill an untapped opportunity to assist adults seeking to expand their education through career readiness and advancement opportunities and employers addressing their needs for educating a workforce, both existing and newly hired, with the skills necessary to meet the needs of future workforce environments. In addition to collaborating with employers, the center will provide support and guidance to adult learners in terms of student financial assistance, admissions, registration, advising and IT support.
The University is also collaborating with Talent 2025, comprised of 40 organizations including regional businesses and higher education institutions in southern Indiana and the surrounding area. USI has also signed an agreement with Ascend Indiana which fills talent gaps by helping employers access a skilled workforce and individuals pursue meaningful careers. USI is working with Emsi, a labor market data company on a pilot program for Skillabi, a curriculum mapping tool linked to workplace skills assessment. It will be tested with five to six programs over the summer.
While the center is new, it will collaborate with a network of existing structures within the University, including advising, admissions, marketing, academics and others. "This is truly a collaborative project that is being made possible through the work of our faculty and departments across the University," said Ann White, chair of the project and dean of the College of Nursing and Health Professions. "We are excited about what this center will be able to offer and about the new pipeline for students this creates for the University."
Three strategies will guide the University as it works to identify, enroll, and graduate adult learners. The first strategy is creating multiple pathways that allow adult learners to achieve educational goals. The second strategy is identifying multiple access points for adult learners to efficiently complete desired educational credentials. The final strategy is developing a communication and marketing plan for a targeted market of adult learners and employers in the state and region.
A public announcement and launch of the program is planned for summer 2021.